Merkel's Climate Crusading Risks Being Blemished by VW Scandal
By
Chancellor lauded carmakers in Frankfurt for emissions efforts

Merkel travels to UN later this week to discuss green push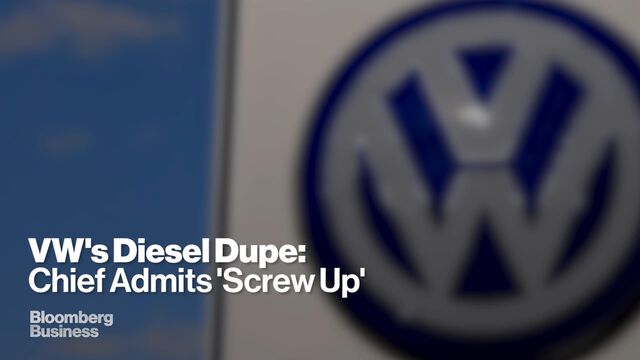 German Chancellor Angela Merkel's lectures on environmental responsibility may ring a little hollow when she heads to New York this weekend.
Merkel, who for years has straddled between pushing to reduce global warming while protecting her country's auto industry, is faced with Volkswagen AG's emissions-cheating scandal just as she travels to the United Nations to cajole leaders into making binding commitments ahead of a global climate summit in Paris in December. Those efforts follow a Group of Seven summit she hosted in June, where Merkel, a former environment minister, extracted pledges to stamp out fossil-fuel emissions by the end of the century.
Merkel has built a reputation as a climate crusader during a decade as chancellor by shepherding her nation through a transition to renewable resources and away from nuclear energy, outstripping other European Union member states in seeking to cut carbon emissions by 40 percent of 1990 levels by 2020. Her push, nonetheless, has often bumped up against the demands of Germany's auto industry, which she successfully helped block tighter EU carbon emissions standards two years ago. Luxury brands Mercedes, BMW, Porsche and Audi are also based in Germany, where Merkel says one in seven jobs depends on the auto industry and cars account for almost 20 percent of exports.
Reactive
Ferdinand Dudenhoeffer, director of the Center for Automotive Research at the University of Duisburg-Essen, faulted Merkel's government for not being more proactive in pushing the auto industry to reduce pollution, saying the chancellor had done too little to promote electric cars. While Merkel has publicly stated her goal is 1 million electric cars on German roads by 2020, her government has done little in the way of incentives -- unlike in neighboring France -- to get consumers to buy such vehicles.
"I don't think the chancellor is terribly concerned about such issues," Dudenhoeffer said by phone. "Her climate actions have been rather reactive."
A day before the U.S. Environmental Protection Agency announced that VW admitted to systematically cheating on air pollution tests for years, Merkel lauded the auto industry for its contribution in fighting global warming. Speaking at the International Auto Show in Frankfurt last Thursday, she said initiatives by German automakers such as electric-car technology had offered an "important contribution" to the country's climate goals.
Greatest Success
"I believe those that produce the least emissions in autos will also be those who have the greatest success worldwide," Merkel said in the speech.
Those ambitions took a hit after the EPA accused Europe's largest carmaker of outfitting nearly a half million vehicles in the U.S. with software that activates full pollution controls only when a car is being tested for emissions. Beyond the collapse of VW's stock price and a potential $18 billion in fines, the hit to the reputation of the Wolfsburg, Germany-based carmaker could cast a shadow on Germany's image as a nation awash in solar panels and wind turbines.
"We expected better from Volkswagen," Cynthia Giles, the EPA's assistant administrator for enforcement, said Friday.
German Transportation Minister Alexander Dobrindt has ordered emissions checks of VW diesel models in Germany in response to the U.S. probe, Bild newspaper quoted the minister as saying in an interview.
The scandal won't change Merkel's message as she heads to the UN to push for stricter climate change measures, her chief spokesman, Steffen Seibert, said in Berlin Monday, when asked what would be the political impact of VW's emissions cheating.
Paris Talks
"Our climate policy speaks for itself," Seibert said. "It's recognized the world over that Germany is one of the driving forces toward a positive resolution as we move to the Paris talks."
Hours before the EPA announcement Friday, Merkel told a gathering of Germany's National Academy of Sciences that world leaders must agree to binding targets as part of efforts to limit global warming to 2 degrees Celsius (3.6 degrees Fahrenheit) this century.
"We need a really credible perspective toward long-term de-carbonization" in Paris, Merkel said in the speech in the eastern German city of Halle.
Still, there are limits to her crusading on the matter. In 2013, Merkel defended her decision to block a draft European Union law that sought to cut carbon-dioxide emissions, saying a delay was needed to more closely evaluate the rules' impact on industry. She said that protecting jobs also plays a role in such matters. The skirmish ended the following year when a compromise to the tightened cap eased potential costs for carmakers such as VW.
That balancing act was on display again at the Frankfurt car show.
"We have to ensure politically that what's doable can indeed by translated into law, but what's not doable mustn't become European law," Merkel said. "Otherwise the auto industry will work somewhere with higher carbon emissions -- and we can't want that."