How Warner Bros. Battled Its Way to No. 1 in Video Games
By
Studio throws out script to outsell competitors in first half

Batman and Gandalf join Scooby-Doo in new Lego Dimensions game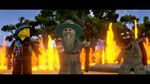 Batman and Gandalf are fighting flying monkeys in Oz. Suddenly, Scooby-Doo comes to their rescue, racing down the Yellow Brick Road in the DeLorean from "Back to Future."
No, it's not some gamer acid trip, just the latest toy from Warner Bros. Interactive Entertainment. Lego Dimensions, which hits stores Sept. 27, lets players send dozens of characters including Superman, the Ghostbusters, Doctor Who and Wyldstyle, the Ninja from "The Lego Movie," on a quest across 14 themed lands to stop an evil mastermind. The characters can use props from a similar mashup of films and TV shows -- Warner Bros. even struck deals with rival studios like Universal and Fox, which lent "The Simpsons" characters to the game.
"It's all about surprising combinations," explains Jon Burton, the game's 46-year-old designer. "People love cameos."
Lego Dimensions is the latest entry in the hotly contested "toys to life" category, which combines video games with real-world collectible figures. It's the largest investment yet for Warner Bros. Interactive at a time when the 11-year-old, Burbank, California-based business is becoming a major revenue generator for its parent, Time Warner Inc.
Even before the release of Lego Dimensions, Warner Bros. Interactive was the top-selling video-game publisher in the U.S. in the first half of this year, Time Warner executives said on an Aug. 5 conference call. Titles such as Batman: Arkham Knight and Mortal Kombat X helped triple game revenue to more than $500 million in the second quarter.

"Every game they do is a phenomenal success," said Michael Pachter, an analyst with Wedbush Securities Inc. "That's highly unusual in the industry and highly unusual for media companies."
Movie and TV producers have a dreadful record in video games. Viacom Inc. reported a loss of more than $260 million on its investment in Rock Band, a music-based game it sold in 2010. Walt Disney Co. endured almost $1.7 billion in losses in its interactive unit before a downsized version finally turned a profit last year. Even Time Warner's predecessor, Warner Communications, had its troubles, losing $500 million on Atari Inc. before unloading the business in 1984.
The key to Warner Bros. Interactive's success is that its seven video-game studios make independent decisions about which games they make and aren't forced to stick to movie scripts, according to David Haddad, the veteran gaming executive who runs the unit. 
"The best ideas come from the creators," he said.
Last year's Middle-earth: Shadow of Mordor, for example, is based on the works of J.R.R. Tolkien yet has an original story. It features a new protagonist, the ranger Captain Talion, and takes place between the events that unfold in "The Hobbit" and "The Lord of the Rings" films.
"It gives players a chance to play outside the lines that were so established by Tolkien," said Andy McNamara, editor-in-chief of Game Informer, a magazine for enthusiasts.
Other movie studios are licensing their characters to Warner Bros., which made "Lego: Jurassic World," based on this summer's Universal Pictures blockbuster. It was the top-selling game in the U.S. in July, according to researcher NPD Group. Disney, which has out-punched Warner Bros.' DC Comics at the box office recently with Marvel films, licensed its superheroes for games such as "Lego Marvel's Avengers," due out in January.
Getting a top score in the "toys to life" category could be much harder, however. A $700 million business in the U.S. alone, the niche is a lucrative one for game makers because they get to sell toys in addition to software. Customers spend an average of $131 on the games and figures, according to NPD, twice what the typical game disc costs.
Lego Dimensions is entering a crowded field, one plowed early by Activision Blizzard Inc. and its Skylanders franchise, which has sold more than $3 billion in games and toys worldwide since its 2011 debut. In addition to the latest version of that game, Lego Dimensions will compete this Christmas with Nintendo Co.'s Amiibo line and Disney's Infinity 3.0, which features "Star Wars" figures for the first time this year.
The games work in a similar fashion. The companies sell software and figures, which pop up on a computer screen when physically placed on a base. Warner Bros. is charging $100 for its starter kit, which includes three figures and the platform that connects them to consoles from Sony Corp., Microsoft Corp. and Nintendo Co. Disney is charging $65; Activision, $75.
One reason Warner Bros. charges more is the Legos, according to Burton. The initial Dimensions kit includes 269 bricks that are critical to the game. Players who advance to certain levels can reconfigure their Lego Batmobile, for example, to include a ray gun or a blaster that, when placed on the game platform, unlocks additional powers on the screen.
Burton has another advantage, a base of fans who have snapped up more than 150 million copies of his Lego-themed titles since Lego Stars Wars: The Video Game came out in 2005. Burton sold U.K.-based TT Games, which he co-founded, to Warner Bros. in 2007. He said 75 percent of Lego video games are purchased by 12-year-olds and up. By including characters from "Ghostbusters" and "Scooby-Doo," Warner Bros. aims to make Dimensions appeal to older customers.
Warner Bros. Interactive is betting on another common theme in Burton's Lego games universe, a sense of humor. In Lego Dimensions, Batman whines, "Why do these things always have to be so bright," as he falls through a portal to another land. A whimpering Homer Simpson, meanwhile, pops up tied to a wrecking ball that players use to knock open a treasure chest.
"For years, you had movie video-game makers trying to copy what was on screen,"said Scott Steinberg, an industry consultant. "That began to work less and less. Consumers are more demanding with their experiences."