technology
This Startup Wants To Fix Everything Wrong With GoPros
Gnarbox aims to close the GoPro gap between shooting and sharing
By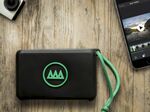 When wearable camera giant GoPro filed paperwork in November for an initial public offering, it boasted that its customers uploaded some 2.8 years worth of video to YouTube in 2013. It sounded impressive at the time, at least until one did the math for the nearly 8 million cameras in circulation. The upload volume worked out to somewhere around 12 seconds per camera.
Tim Feess, a 26-year-old bond analyst looking for a business idea, read that metric and saw a market. "It's actually not that much," Feess explained. "It became clear people just weren't going through the trouble of managing and using their footage." 
Fast-forward 10 months and Feess is in New York, plugging a Bloomberg memory card into a Walkman-size chunk of hardware. Dubbed the Gnarbox 1 , the gadget is equal parts hard drive, Wi-Fi hotspot, card reader, and when synced with a smartphone, editing suite. It's intended to let people quickly store, edit, and share footage from places where they aren't inclined to haul a laptop—a chairlift, a remote beach break, or the parking lot of Buffalo's football stadium.
It won't do much to break up the love affair of iPhones and Instagram, but it may prove useful for the millions of people using GoPros or filling up big memory cards with DSLR cameras.
"We want to take away all of the friction that's usually associated with editing and sharing photos and videos," Feess said. The little box has a USB3 port and slots for SD and microSD cards.
It stores 128GB of content, and its iPhone editing app is built to handle huge 4k video files and RAW photo files. GoPro has an editing app of its own, but the platform didn't offer editing until a recent update, and Feess says it isn't as facile with large files 2 .

With the memory card plugged in, Feess's iPhone linked via Wi-Fi to the Gnarbox, and he began scrolling through hundreds of photos and videos—Brooklyn in winter, Woodrow the wonder-lab, and a recent vacation in Italy. "Whoa, you've got a ton on here," he said. "Actually, this is good. Being able to handle lots of files is one of the things we really need to highlight."
With a few swipes he was snipping high-def video clips, stitching them together, crunching them through a filter, dialing down the gradient, and saving the entire montage to his iOS camera roll. A moment later, Feess had the video cued up on Instagram and was zipping me a version via AirPlay.
Gnarbox doesn't really do anything that can't be done already. On-device editing was a major part of the pitch for the newest iPhones, which apparently will be able to slice and splice 4k video. Meanwhile, hard drives with ultrafast Wi-fi are becoming commodities. Whatever value Gnarbox has lies in its packaging and utility—its function as a kind of Swiss Army knife for social-media sharing.

Investors, however, weren't swayed by the idea. After raising some money from friends and family, the Gnarbox crew 3 failed to make any headway with professional financiers. "The sense I got was that venture capitalists just hate hardware," Feess said.
Eventually, the team turned to Kickstarter, hoping to raise about $200,000 by mid-August. It hit that mark in five days and had almost $541,000 in commitments by the time the funding window closed. The market theory was proving out—at least among the 3,000 or so people that flocked to the campaign. Most of them photograph outdoor activities or sports, according to a Gnarbox survey. Two-thirds of them own GoPros, and almost 70 percent of them use more than one camera.
The wave of cash has brought new interest from investors and even prompted talks with GoPro about a purchase or some sort of financial partnership, according to Feess (GoPro did not respond to requests for comment). Meanwhile, Gnarbox has five engineers hustling to finish a few improvements—namely, adding music options to the editing platform, building an Android app, and making it possible to edit via the cloud without needing the Gnarbox device around.

To be sure, this thing isn't flawless. In fact, it's hardly a thing at all. The device Feess synced with our camera Thursday was a kind of Frankenstein beta version with wires and ports poking out all over. The final product, with a sticker price of $249, isn't expected to ship until March. 
What's interesting and surprising is that Gnarbox stands a chance at all. Despite billions of people on social media and investors blanketing Silicon Valley with cash, a couple of savvy ski bros in Los Angeles are cobbling together something that might corner a market—albeit a bit of a niche market—in the same way GoPro laid claim to the point-of-view video camera.
Early GoPros arguably weren't the best cameras. But they were decent, and more importantly, they were among the first. By the time incumbent camera giants realized how big the wearable camera market might be, GoPro had already cultivated a community of evangelists, something that Gnarbox is working hard at. Pro snowboarder Travis Rice is a particularly high-profile champion of the idea.
Today, GoPro has grown into an ecosystem of straps and poles and mounts. It sells spare battery packs, foam windscreens, remote controls, and even a little rubber life preserver to keep a camera afloat. But it still doesn't have anything like the Gnarbox … at least not yet.
Users grumble about the GoPro app as well. Its averages only two stars out of five on iOs App Store ratings.
Before it's here, it's on the Bloomberg Terminal.
LEARN MORE