Ackman-Backed Harvard Grads Make Aiding the Poor a New Business
By
Cash handouts revolutionizing global system of emergency aid

Economists starting company to process, track the handouts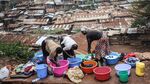 Michael Faye and Paul Niehaus spent summers as Harvard graduate students trying to give cash to the poor in the villages of Kenya.
The villagers were perplexed; development experts thought the two had lost their minds. People who live on less than a dollar a day, the experts said, were sure to spend the money on cigarettes and alcohol.
Seven years later, the idea is upending the international aid industry. Giving cash directly to the very poor turns out to be more efficient and productive than when charities with high overhead distribute goods and food. Those in extreme need take the cash and use it wisely.
Armed with numerous studies confirming their findings and encouragement from the White House, World Bank and United Nations, the two economists are now hoping to turn their charitable technique into a business -- selling secure technology for cash delivery and management on digital devices to governments, non-profits and international aid groups fighting poverty. Some of the savviest investors in the U.S. are signing up.
This month, Reid Hoffman, co-founder of LinkedIn Corp., led a $13 million initial funding round for Segovia Technology Co., the software startup Faye and Niehaus founded last year. The investors, including Abraaj Capital Ltd. Chief Executive Officer Arif Naqvi, Bill Ackman's Pershing Square Foundation and the Omidyar Network Fund Inc., believe Segovia can be the Salesforce.com Inc. for the humanitarian industry, said Christopher Schroeder, an angel investor and former technology executive, who is on the New York-based company's board.
Digital Payment
The goal is to help anti-poverty programs figure out "who they want to help, keeping track of what happens to those people, what help they receive, what help they still have to receive," said Segovia co-founder Niehaus, who is an economics professor at the University of California San Diego. It will integrate with banks as well as mobile and digital payment systems.

A fundamental challenge facing Faye and Niehaus is how quickly the $25 billion humanitarian aid industry, with its 4,480 organizations and 450,000 workers, is willing to diversify from a system it has relied on for decades.
"For the first 50 years of humanitarian assistance, giving in-kind aid was the de facto approach," said Waheed Lor Mehdiabad, of the U.N. Refugee Agency in Geneva. "You just buy goods, transfer them, store them and distribute them." An entire system has grown up around the model, he said, and replacing it with a new one will require enormous effort. Segovia is counting on it.
"We're just betting that we're on the right side of history on that trend and it's never going back," Schroeder said. Save the Children and the International Rescue Committee have hired Segovia for projects in Asia and Africa. The company is hoping to persuade governments to do the same.
Refugee Crisis
Currently cash transfers and vouchers account for only 6 percent of international humanitarian aid. The Overseas Development Institute, a leading U.K. think tank, published a report this month commissioned by the British government calling for that number to increase dramatically. It says the need to move to a "coordinated system of cash transfers" is critical to respond to mounting need. The refugee crisis in the Middle East and Europe is adding a sense of urgency to the debate.
Jim Yong Kim, president of the World Bank Group, said in an e-mail interview that cash transfers are playing a critical role in efforts to end extreme poverty. "We believe in this because of hard evidence," he said.
A 2013 study in Uganda found that people who received cash enjoyed a 49 percent earnings boost after two years, and a 41 percent increase after four years, compared to people who hadn't gotten a transfer. Another study in Sri Lanka found rates of return averaging 80 percent after five years. In Uganda, not only were the cash recipients better off, but their number of hours worked and labor productivity actually increased.
But the most striking piece of evidence in support of cash transfers is by Faye and Niehaus, presented via charity work through their non-profit organization GiveDirectly.
Livestock and Land
Giving a year's income of $1,000 to Kenyans who live on about 60 cents a day via mobile banking system M-Pesa, showed a 34 percent increase in earnings and a 52 percent rise in assets. Beneficiaries invested the cash, buying livestock and land for longer-term returns. Also, about 90 cents of each dollar donated to GiveDirectly is transferred directly to recipients.
In a 2014 review of 19 cash transfer program studies, the World Bank showed that, "Almost without exceptions the studies find either no significant impact or a significant negative impact of transfers on expenditures on alcohol and tobacco."
The same applied even to criminals. One program, which gave $200 to Liberian men who were homeless or made their income from dealing drugs or stealing, found in the months after they got the cash that "most dressed, ate and lived better."
Much remains to be learned, however, about how best to distribute the cash and how to measure its long-term effect.
No Panacea
"Nobody doubts cash transfers, and I can't think of anything better to give away than cash," said Kevin Starr, managing director of a foundation that funds early-stage social entrepreneurs. "But the jury is not in on whether giving cash leads to recipients being substantially better off in the longer-term or what the best ways to give cash are."
Both Niehaus and Faye agree that cash is not a panacea and more research needs to be done.
"We're not saying cash should replace all aid, because roads still need to be built and food needs to be supplied to places where there are no markets," Faye said. "The question we should be asking ourselves is not, is cash better or worse, but how do we use cash as a benchmark?"
Before it's here, it's on the Bloomberg Terminal.
LEARN MORE