Yellen Pause Ups Pressure on Draghi as Global Pessimism Mounts
By
Draghi and colleagues may hint at further stimulus this week

Goldman Sachs sees QE extension prompting decline in euro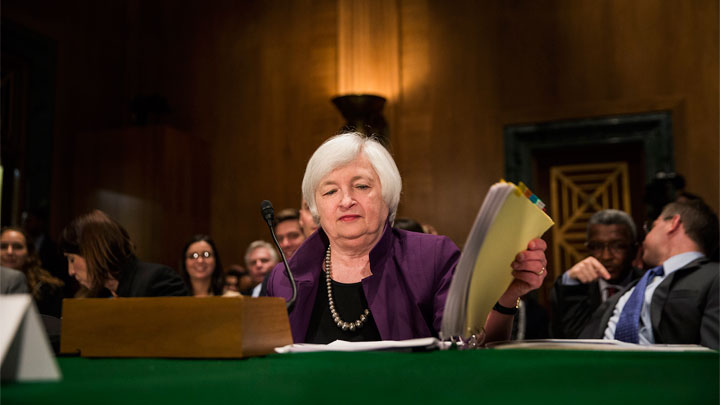 The global economy caused Janet Yellen to pause for thought. It could spur Mario Draghi to act.
After the Federal Reserve chair held off from a U.S. interest-rate increase amid concerns that world growth will weaken, her counterpart at the European Central Bank may give clues on the need for further stimulus for the euro area. Draghi and other Governing Council members will make public appearances this week, while data releases will show whether the currency bloc is succumbing to, or shaking off, the gloom.
Like the U.S., the euro area is stuck with stubbornly low inflation. Unlike Yellen, Draghi can't yet rely on domestic demand to lift prices. Whether because the Fed's delay leads to a stronger euro, or because of the drag of emerging markets, economists see it as increasingly likely that the ECB will be called on its pledge to boost its 1.1 trillion-euro ($1.3 trillion) bond-buying program if needed.
"The worry is that, previously, central banks assumed that global growth
would be materially stronger in 2016, but that doesn't look likely now,"
said Nick Kounis, head of macro research at ABN Amro Bank NV in
Amsterdam. "If the Fed had hiked rates, it would have given the ECB some
breathing space. Now the pressure is on them again."
Structural Shift
The ECB's optimism that a home recovery coupled with stronger external demand would steer inflation back to the goal of just under 2 percent is now being replaced by concern that a structural shift has beset the world economy. Executive Board member Peter Praet, the institution's chief economist, said at an event in Geneva Monday that policy makers "would forcefully react" if they reach that conclusion.
Draghi's lieutenants have been reinforcing that message since the Fed's rate decision last week. Benoit Coeure, the ECB's markets chief, said in a speech in Paris on Friday that prospects for growth in the euro area have "clearly weakened," and aren't helped by a euro that's now strengthening against the currencies of its main trading partners.
The single currency has gained more than 3 percent in trade-weighted terms since mid-July and almost 4 percent against the dollar. European bonds jumped after the Fed's Sept. 17 decision to keep its benchmark rate at a record low.
PMI Surveys
Hours before Draghi addresses lawmakers at the European Parliament on Wednesday, purchasing managers' surveys for September may tell investors whether Europe's manufacturing and services industries are indeed succumbing to lower external demand, or whether domestic consumers are helping to prop them up.
There are signs that the modest euro-area recovery needn't wilt just because of financial-market turmoil and a Chinese slowdown. Consumer confidence is near the highest since the financial crisis and bank lending to companies and households is finally rising again. Latest figures for those measures will also be released this week.
Those skeptical of the need for quantitative easing, such as Bundesbank President Jens Weidmann, have called for a steady hand on the monetary-policy tiller, rather than a rush to deliver even more stimulus. Weidmann speaks on Wednesday in Guetersloh, Germany.
Governing Council member Luis Maria Linde, who heads Spain's central bank, said on Monday that the Fed delay shouldn't mean the ECB needs to alter its own stimulus program.
QE Rhetoric
"It's a powerful program as we know, it's a large program, it's going well," he told reporters in Madrid. "What the ECB has said is that it could consider new measures based on the evolution of the economy, but that's not based on the decision or lack of decision from the Fed."
Given that QE is just six months old, the ECB will probably focus on rhetorical support at first, according to Greg Fuzesi, an economist at JPMorgan Chase & Co. in London. The easiest option is to reiterate that the initial end-date of September 2016 isn't set in stone.
"ECB commentary is pointing to a QE extension beyond September 2016 as
the most likely form of further easing," Fuzesi wrote in a note to clients. "Given how far that is away, there is much scope for buying time with dovish rhetoric in the meantime, without a formal policy change."
As of Sept. 18, the ECB had settled 327 billion euros in government-bond and agency-debt purchases, 118 billion euros in covered bonds, and 12 billion euros in asset-backed securities, according to figures released Monday.
Goldman Sachs Group Inc. said in a report dated Sept. 20 that the ECB will maintain buying at the current level through the end of 2016, and only end it completely in mid-2017. The bank said the euro may fall as much as 10 cents against the U.S. currency.
Yellen Speech
Much may depend on whether the Fed has taken a momentary breath or whether officials see the need to hold borrowing costs where they are until next year. Yellen speaks on Thursday in Amherst, Massachusetts, where she may elaborate on the central bank's thinking. A more bullish Fed would be consistent with a strengthening dollar -- and the weakening euro that could make more easing by the ECB unnecessary.
Before then, Draghi will likely face questions in the European parliament over what his next moves will be. Should he take action, options include immediately increasing the size of asset purchases from the current level, or broadening the program into other asset classes.
"Everyone now seems to have an expectation that QE will continue for longer," said Anatoli Annenkov, an economist at Societe Generale SA in London. "The next step is whether we dare to expect whether the ECB will in the short term do more."