business
VW Orders Investigation Into Cheating on Diesel Emissions
By
CEO says he's personally sorry for broken customer trust

Almost a half-million Audi and VW cars in U.S. were affected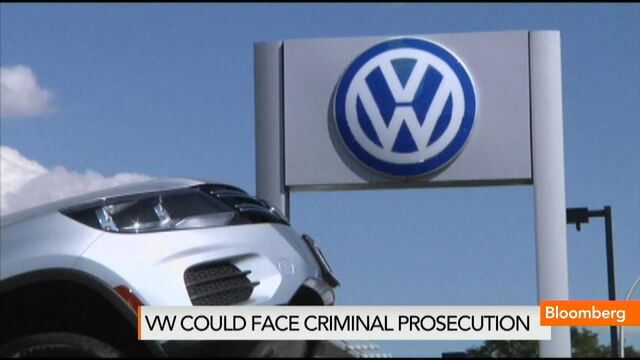 Volkswagen AG has ordered an external investigation into its cheating on U.S. air pollution tests for years, saying that regaining customer trust is key.
Investigating the deception, which affects almost a half-million diesel VW and Audi cars sold between 2009 and this year, is a priority, and the company will cooperate fully with U.S. regulators, Chief Executive Officer Martin Winterkorn said in a statement on Sunday.
"I personally am deeply sorry that we have broken the trust of our customers and the public," Winterkorn said. "We will do everything necessary in order to reverse the damage this has caused."
The German carmaker admitted to fitting its U.S. diesel vehicles with software that turns on full pollution controls only when the car is undergoing official emissions testing, the Environmental Protection Agency said Friday, citing violations that could add up to $18 billion in fines. The company said it has also heard from the Justice Department, which the EPA said could pursue criminal prosecution.
During normal driving, the cars with the software -- known as a "defeat device" -- would pollute 10 times to 40 times the legal limits, the EPA estimated. The discrepancy emerged after the International Council on Clean Transportation commissioned real-world emissions tests of diesel vehicles including a Jetta and Passat, then compared them to lab results.
"The revelations will damage VW's sales and destroy its image of being a mythological German company that relies on trustworthy engineering instead of marketing hype," said Erik Gordon, a business professor at the University of Michigan.
Sales Halted
The automaker has halted the sale of 2015 models and certified pre-owned diesel automobiles in the U.S., said Jeannine Ginivan, a spokeswoman for the company.
Jason Thompson, general manager at Quirk Volkswagen in Braintree, Massachusetts, said he has had to turn away customers, including an owner of a TDI model who had been planning to trade in his car for a new one this weekend. Customers can see vehicles on display, Thompson said.
Volkswagen had counted on clean, powerful diesel cars to help it build its sales in the U.S., where it has struggled despite being the world's biggest carmaker. Sales of VW-brand cars there dropped 10 percent last year to 366,970.
Still, VW diesel owners in the U.S. tend to be "pretty cultish," and the revelation may not deter consumers for long, said George R. Cook, former marketing professor at the University of Rochester, who previously worked at Ford Motor Co. "The real concern is being deceptive, like they were doing here. They were cheating."
— With assistance by Mark Clothier, Michael McDonald, Jeff Plungis, and Noah Buhayar
Before it's here, it's on the Bloomberg Terminal.
LEARN MORE