Refugee Enforcer Morrison Turns Persuader as New Australian Treasurer
By
Ex-immigration minister charged with selling economic agenda

Appointment caps rapid rise for former Australia tourism chief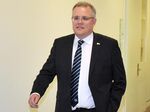 Scott Morrison must go from enforcer to persuader in his new role as Australia's treasurer.
The 47-year-old, who shot to prominence as a combative immigration minister halting the tide of refugees reaching the nation, is now charged with selling the government's economic policies -- an area Malcolm Turnbull highlighted as Tony Abbott's main failing when he ousted him as prime minister last week.

The new Treasurer inherits stalling growth, a gaping budget deficit and a central bank with diminished policy firepower to stoke an economy struggling with the fallout from China's slowdown and market volatility. His challenge will be to spell out an economic narrative setting out where new jobs can emerge and how changes to tax and labor policies and investment in research are vital to renew national prosperity.
"Morrison will be under a lot of pressure," said John Hewson, who led the Liberal Party from 1990 to 1994 when it was in opposition. "His capacity to stimulate the economy by budget policy is limited, monetary policy is easy and if anything we're in a liquidity trap. Exactly how are you going to stimulate growth in this environment, where are the jobs going to come from is what he needs to explain."
Rapid Rise
Morrison's rise to the role of Australia's chief economic minister is rapid, coming just eight years after he entered parliament.
He replaces Joe Hockey, who will leave parliament. Hockey struggled to present a coherent message after trying to cut spending in his first budget to deal with a burgeoning deficit, then claiming the fiscal position was under control and providing handouts in his second. Abbott's government also cut funding to science, research and renewable energy, even as the end of a mining investment boom was going to require more use of human capital.
"Morrison's key job will be to prepare the narrative that explains to the
Australian people the reality of where the economy is at and what storm clouds lie ahead," said Haydon Manning, a politics professor at Flinders University in Adelaide. "He will have a steep learning curve in a much bigger and more complex portfolio than he's dealt with."
Morrison was born in Sydney's eastern suburbs, attended a top state school and earned an Honors degree in Applied Economic Geography at the University of New South Wales. He is married with two daughters, a committed Christian, and lives in Sutherland Shire -- an area in Sydney's south that was the scene of a race riot in 2005.
Tourism Roles
After graduating, he held management positions in the Liberal Party and the nation's tourism industry. He worked on the internationally successful "100% Pure New Zealand" campaign during a stint in that country.
The "Where the bloody hell are you?" campaign in 2006, when he was head of Tourism Australia, which brought swimsuit model Lara Bingle to prominence, was less of a hit. In it Bingle, wearing a bikini on a white sand beach, uses the colloquialism to ask foreign audiences why they aren't in Australia. The advertisement caused confusion abroad where many countries couldn't understand the question and was also initially banned in others for using an obscenity.
In his maiden speech in parliament, Morrison cited Desmond Tutu and Bono and praised the then Labor government's apology to indigenous people taken from their families by the state. When Abbott became opposition leader in 2009, Morrison was appointed opposition spokesman for immigration and became a tough and effective critic of the government.
Asylum Seekers
Morrison led the charge to halt the flow of asylum seekers when Abbott's Liberal-National coalition won office in September 2013. He stared down the media and human rights groups that criticized the policy of detaining arrivals in offshore camps.
With the refugee boats stopped, Morrison was transferred to deal with Australia's sprawling welfare sector as social services minister -- and had a tougher job trying to gain the support of minority lawmakers in the upper house for cuts to benefits.
"What might work with people smugglers doesn't work with pensioners and single mums," Hewson said, noting a treasurer is going to need to be an outstanding negotiator to pass legislation. "This is a new guy untested in an economic portfolio. People will watch him with great interest."
Bruce Baird, who preceded Morrison in his parliamentary district and first met him while he worked in the tourism industry, is more confident of his abilities.
"He's determined and doesn't turn back at the first whiff of grapeshot across the bows," said Baird, who is the father of New South Wales state Premier Mike Baird. "He's bright, he grasps issues quickly and he will pick them up and communicate them well, which will stand him in good stead as treasurer."