Panic in Gulf at $50 Oil Recedes as Reserves Soothe CDS Market
by
Default swaps dropping after August spike on crude, China

CDS correlation to Brent reversed as oil stayed below $50
Investor concern a Gulf nation could default is receding, even with oil trading below $50 per barrel.
Abu Dhabi's credit-default swaps, contracts insuring the emirate's debt against non-payment for five years, dropped 19 basis points since a two-year peak on Aug. 24, to 61, according to prices compiled by CMA. Saudi Arabia's fell 46 basis points. The swaps had spiked amid concern that China's economy was slowing and as oil slumped amid a supply glut. Brent crude was trading at $48.28 a barrel at 2:49 p.m. in Dubai on Monday.
The six nations that make up the Gulf Cooperation Council, home to about 30 percent of the world's proven oil reserves, rely on income from crude to help fund their government budgets. The correlation between crude prices and CDS in the region -- which surged in August -- has weakened over the past month.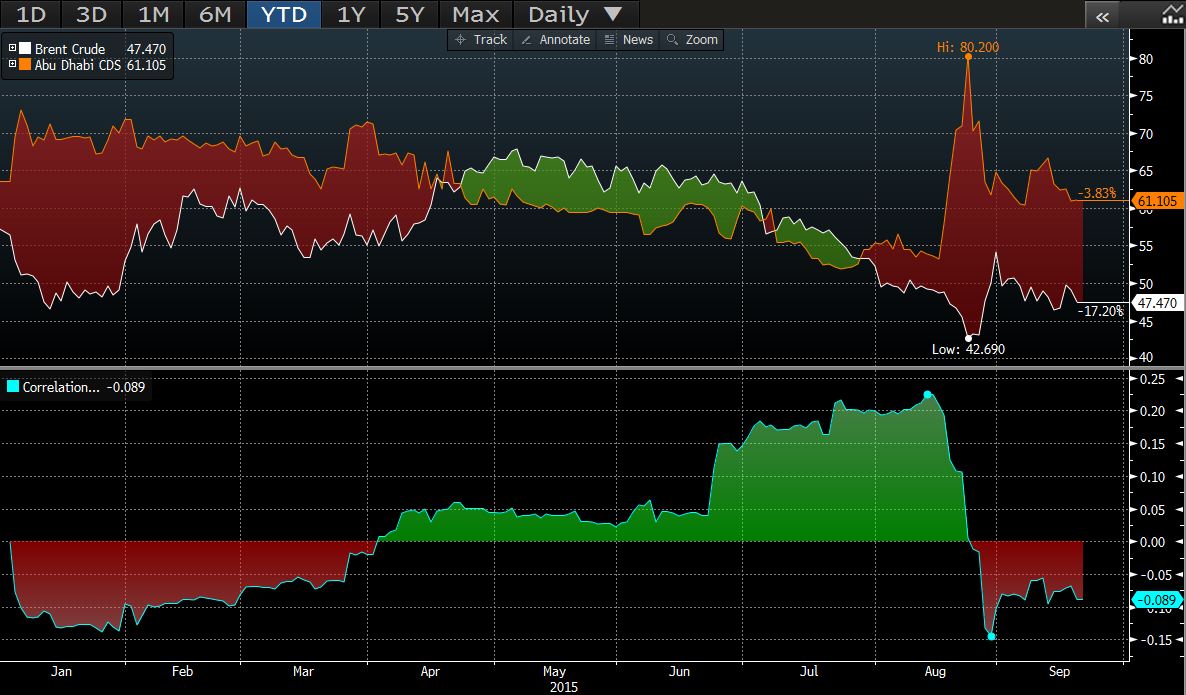 "These countries have strong financial strength because of their large foreign-currency reserves," Anita Yadav, the head of fixed-income research at Emirates NBD PJSC, the U.A.E.'s second-biggest bank, said by phone from Dubai. They also "seem more in control of their expenditures," she said.
Brent crude, a benchmark for half the world's oil, fell to the lowest in six years last month on signs an oversupply of oil will persist as Iran pledged to boost production and U.S. drilling activity increased.
Amid the plunge in commodities prices, Saudi Arabia announced plans to cut "non-essential" spending, according to a CNBC Arabia report this month. While foreign reserves have dropped by $76 billion from a peak in August 2014, the kingdom still had about $661 billion at the end of July.  
The sovereign-wealth fund of Abu Dhabi, the richest of seven sheikhdoms that make up the U.A.E., held $773 billion in assets at the end of June, according to estimates from the Las Vegas-based Sovereign Wealth Fund Institute.
Bahrain's CDS has dropped 35 basis points since its August peak. Dubai's fell 41 points, and Qatar's 24 points.
"Markets usually have a knee-jerk reaction before investors begin to differentiate between the different emerging-market economies," Yadav said.
Before it's here, it's on the Bloomberg Terminal.
LEARN MORE