business
Merkel Coalition at Odds Over Proposal to Cap EU Asylum Places
Rainer Buergin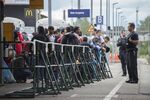 German Vice Chancellor Sigmar Gabriel said he doesn't "understand" Interior Minister Thomas de Maiziere's proposal for the European Union to set an upper limit to the number of people it accepts as asylum seekers.
"It's the opposite of what the Chancellor has rightly said, namely that those who arrive in Germany and apply for asylum need a fair procedure," Gabriel, who's also chairman of the Social Democratic Party, said Sunday on ARD public television. "It is not a solution to establish quotas for asylum seekers. Incidentally, it is also contrary to the German constitution."
Support for two German opposition parties not represented in parliament rose as criticism of Merkel's handling of Europe's refugee crisis mounted. Backing for the Free Democrats, Merkel's former coalition partner, and the anti-euro Alternative for Germany party each increased 1 percentage point to 5 percent in a weekly poll, Bild am Sonntag reported.
"We can't host all the people from conflict areas and all poverty refugees who want to come to Europe and to Germany," de Maiziere told Germany's Spiegel magazine. "The right way would be that we in the EU commit ourselves to fixed, generous quotas for the admission of refugees."
A call by one of his party deputies that de Maiziere, a member of Chancellor Angela Merkel's Christian Democratic Union, should resign unless he succeeds at accelerating asylum procedures was "nonsense," Gabriel said.
Labor Minister Andrea Nahles said in an interview with Deutschlandfunk public radio she expects German unemployment figures to rise next year due to "a significant increase" in the number of refugees seeking work as "not every refugee who comes now is already automatically a qualified worker."
All parties represented in the lower house of parliament shed 1 percentage point in the Emnid poll, with Merkel's Christian Union bloc dropping to 40 percent, her Social Democrat coalition partner to 24 percent, the Greens to 10 percent and the Left party to 9 percent. Emnid polled 1,882 people from Sept. 10 to 16. No margin of error was given.
Before it's here, it's on the Bloomberg Terminal.
LEARN MORE