India's Age-Old Dependence on Monsoon Rain Is Slowly Fading Away
By
More farmers relying on other income for household expenses

Soft global food, oil prices to keep inflation in check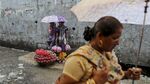 For millennia, India's rulers have been held hostage to something they can't control: monsoon rains. That's now starting to wane.
Despite being poised for a second straight year of below-average rainfall, growth is set to accelerate and inflation is slowing. Falling global commodity prices are allowing Prime Minister Narendra Modi to import more food, while better roads mean rural Indians have more options for earning cash.
"The dependency on the monsoon has been decreasing over the years," said Dharmakirti Joshi, Mumbai-based chief economist at Crisil Ltd., the Indian unit of Standard & Poor's. "I don't think it is going to be a decisive factor in monetary policy."
Central bank Governor Raghuram Rajan is due to review interest rates on Sept. 29. He'd left them unchanged last month, in part to assess the strength of seasonal rains that water more than half of the country's farmland.
Since then consumer price-gains have slowed to 3.66 percent -- below the central bank's 6 percent target for a 12th month -- as oil has tumbled below $50 a barrel and global food costs dropped. Asia's third-biggest economy is set to expand more than 7 percent in the year through March, among the fastest growing in the world.

"I would say the reliance on monsoon has waned slightly," said Jyotinder Kaur, an economist at HDFC Bank Ltd. "The only possible speed breaker will come from the Federal Reserve and not the monsoon."
The July-September monsoon accounts for about 80 percent of India's total rainfall, and affects both summer and winter sowing. So far this year, rains have been 14 percent below normal through Sept. 20, according to the weather department.
Modi has capped gains in guaranteed prices for rice to levels not seen since 2006, kept a lid on lentil costs and asked authorities to crack down on hoarders. His government is importing more onions and plans to spend 500 billion rupees ($7.6 billion) over five years to boost irrigation facilities.
"Indian agriculture has not become completely insulated from large fluctuations in rainfall," said a paper published by the Reserve Bank of India in May. "A game changer in this context is the degree of preparedness of the government."
Ancient religious texts show India's historical dependency on the monsoon. References to the rain god are scattered throughout the roughly 1,000 hymns in the Rigveda, a Hindu document that predates the New Testament by at least a millennium. The Arthshastra -- a 350 BC treatise on statecraft -- advises kings that monsoon management is crucial to staying in power, and informs them on how to measure rainfall.
Agriculture now contributes 18 percent of India's economy from as high as 50 percent in the 1950s. A third of more than 900,000 farming households in the country depend on agriculture only for supplementary income, amounting to less than half of their monthly expenses, according to a survey released by the Statistics Ministry in December. 
The monsoon also doesn't have a high correlation with food inflation, the PHD Chamber said in a July study. About 40 percent of food cost increases are explained by higher per capita incomes rather than rainfall, it said.
Another study published by India Ratings that month said Indians are spending a smaller share of their earnings on food and more on discretionary items, making them less vulnerable to fluctuations in food costs. Any reduction in spending would be more psychological, which companies can combat by cutting prices, it said.
"Rural consumption is unlikely to meet the same fate" as it did about a decade ago, analysts Sunil Kumar Sinha and Devendra Kumar Pant wrote in the report.