Fed Officials Still See 2015 Liftoff Despite September Delay
By and
Williams: September FOMC policy decision was a `close call'

Jobless rate expected to keep falling, inflation to rebound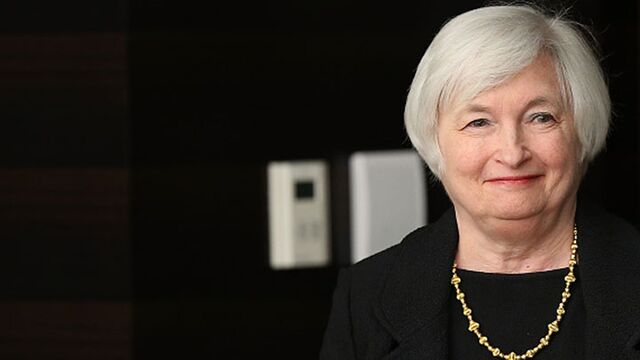 Federal Reserve officials argued that an interest-rate increase is still warranted this year, laying out the case for liftoff in remarks over the weekend that counter bets by traders that the central bank will stay on hold until 2016.
Three policy makers separately explained their rationale for enacting a rate increase at one of the Fed's two remaining meetings of 2015, citing declines in unemployment and other gains in the U.S. economy that should outweigh headwinds from slower growth abroad and turbulent financial markets.
San Francisco Fed President John Williams, a policy centrist who has worked closely with Chair Janet Yellen, said Sunday that "in my mind, it was a close call" to delay a rate rise at last week's Federal Open Market Committee meeting.

Williams' comments on Fox News Channel's "Sunday Morning Futures with Maria Bartiromo" echoed remarks he made the day before, and chimed with the reasoning of St. Louis Fed President James Bullard and Richmond Fed President Jeffrey Lacker. Both weighed in on Saturday over the FOMC's vote to leave rates near zero.
Mixed Messages
The central bank's decision, and the way its deliberations were framed by Yellen in a post-meeting press conference, were interpreted by many Fed watchers as a sign that the central bank might not raise rates this year. In holding rates steady, the Fed noted international uncertainties and subdued inflation.
Traders say it's more likely than not that the Fed will postpone liftoff until 2016, based on the current pricing of federal funds futures contracts.
Investors will hear directly from Yellen again on Sept. 24 when she delivers a speech in Amherst, Massachusetts.
Williams said on Saturday in Armonk, New York, that "I view the next appropriate step as gradually raising interest rates, most likely starting sometime later this year."
He is in the majority. Quarterly Fed forecasts, which were updated for last week's FOMC, showed that 13 of 17 policy makers still expect rates to increase in 2015. The projections, displayed in a so-called dot plot, don't identify the forecasts of individual policy makers and Yellen declined last week to say which dot belonged to her.
The committee gathers next on October 27-28 and December 15-16. Its benchmark interest rate has been kept near zero since 2008 to spur hiring and investment amid the worst recession since the Great Depression. The Fed last raised rates in 2006.
2016 Liftoff


While Williams voted last week to leave rates near zero, Bullard, who doesn't vote on policy until next year, argued for an increase at the meeting, he said Saturday during a speech in Nashville, Tennessee.
Holding rates steady yet again seems to have "created rather than reduced global macroeconomic uncertainty," he said.
The FOMC's goals have "essentially been met, but the committee's policy settings remain stuck in emergency mode," Bullard said.
The Fed's twin objectives for its monetary policy are to achieve maximum employment and stable inflation, which it targets at 2 percent. The unemployment rate dipped to 5.1 percent in August. The Fed's preferred gauge of price pressures rose 0.3 percent in the 12 months through July and has been under two percent for more than three years.
Williams said he expects the U.S. to reach full employment by the end of this year or early in 2016.
Upward Pressure
"Recent global economic and financial developments may restrain economic activity somewhat and are likely to put further downward pressure on inflation in the near term," the committee said in its post-meeting statement.
Even with a small interest-rate increase, policy will remain highly accommodative and continue to place upward pressure on inflation, Bullard said Saturday. Williams said that while a strong dollar and the fall in oil prices over the past year have tamped down price pressures, those factors "should prove transitory." He expects that inflation will move toward 2 percent in the next two years.
Lacker, an anti-inflation hawk, dissented in favor of higher interest rates on Thursday. He said Saturday that the Fed's failure to tighten had raised the risk of "adverse outcomes."
"An increase in our interest rate target is needed, given current economic conditions and the medium-term outlook," Lacker said in a statement posted on his regional bank's website. Lacker was the sole dissenter to the Fed's decision.
'Close Call'
Both Williams and Bullard said October is a possibility for an rate increase, even though there will be a relatively limited amount of new economic data -- including one jobs report and one Consumer Price Index reading -- between now and then.
"There is not a lot of data," Bullard told reporters. "On the other hand, it was a close call at this meeting." The Fed is "ready to go" in October if conditions warrant, he said.
Although traders are leaning against a Fed move for now, if markets don't properly anticipate a rate increase when it arrives, "that doesn't bother me," Williams told reporters.
For more, read this QuickTake: The Fed's Countdown
He said in his Fox News interview on Sunday that the Fed could stage a press briefing after its meeting next month if it decided to act. Yellen, who has said a rate decision is possible at any meeting, is not scheduled to hold a press conference until the December FOMC.