Trump Pushes National 'Right to Carry' Law in Gun Rights Paper
By
Calls permits for hidden firearms a `right, not a privilege'

Previously backed assault weapons ban, longer waiting period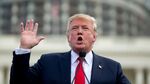 Republican presidential candidate Donald Trump, who in the past called for restrictions on certain weapons purchases, announced his plan for a national right-to-carry law and called gun and magazine bans "a total failure."
The billionaire, who leads most surveys of likely 2016 Republican primary voters, said in the campaign's second position paper that "the right of the people to keep and bear Arms shall not be infringed upon. Period."
There is no federal law addressing how permits to carry concealed weapons should be issued. Concealed carry, now allowed on a state-by-state basis, should be valid "in all 50 states," said Trump's paper, which was posted Friday on his campaign website.
"If we can do that for driving -- which is a privilege, not a right -- then surely we can do that for concealed carry, which is a right, not a privilege," Trump said. The real estate mogul and television celebrity said he is one of "tens of millions of Americans" who holds a permit to carry concealed weapons.
The three-page document outlining Trump's advocacy for Second Amendment protection builds on recent campaign-trail declarations that he is "against gun control." In his book "The America We Deserve," published in 2000, Trump supported a ban on assault weapons and a longer waiting period for gun purchases.
'Popular' Weapons
In the campaign manifesto, Trump said gun rights opponents use terms like assault weapons "to confuse people. What they're really talking about are popular semi-automatic rifles."
Problems with the mental health system are at the root of mass murders in the past several years, Trump said in the paper. He called for an expansion of treatment programs, citing "red flags that were ignored" that led to recent shooting incidents, and noting that law-abiding gun owners are "blamed by anti-gun politicians, gun control groups and the media for the acts of deranged madmen."
Trump will have plenty of competition from other Republican presidential hopefuls on the issue of gun rights, as many seek the backing of the National Rifle Association, the country's largest and most powerful gun lobby.

NRA Grades
The NRA has at various times granted top grades to several of the party's 2016 contenders, including an "A+" rating for former Florida Governor Jeb Bush. The NRA evaluation depends on votes, bill signings, vetoes and questionnaires.
Trump published a series of posts on Twitter Saturday, responding to criticism that he didn't dispute a man's reference to President Barack Obama as a Muslim during a campaign event in Rochester, New Hampshire, on Thursday.
"Am I morally obligated to defend the president every time somebody says something bad or controversial about him? I don't think so!" he wrote on Twitter. "This is the first time in my life that I have caused controversy by NOT saying something." Separately, Trump said he didn't expect Obama would "come to my rescue" in such a case.
Trump is scheduled to appear on ABC's "This Week" on Sunday, in addition to appearances on CNN's "State of the Union" and "Meet the Press" on NBC.