VIX Goes in Circles as Selling Volatility Hits Wall After Fed
by
On the brink of its biggest three-day gain ever, XIV tanks

Stocks open lower on Friday following Fed rate decision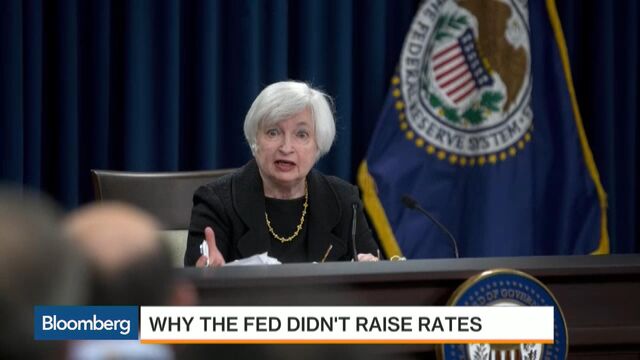 Traders trying to revive a favorite options trade were stopped in their tracks Thursday as Janet Yellen's cautious words on emerging markets whipped up another round of volatility in U.S. stocks.
On the brink of posting its biggest three-day gain ever, a security designed to rise as equity market turbulence dissipates plunged almost 10 percent in the final hours of yesterday's session. The reversal came as swings in the Chicago Board Options Exchange Volatility Index quickened, with the gauge crossing the unchanged level 30 times after 2 p.m.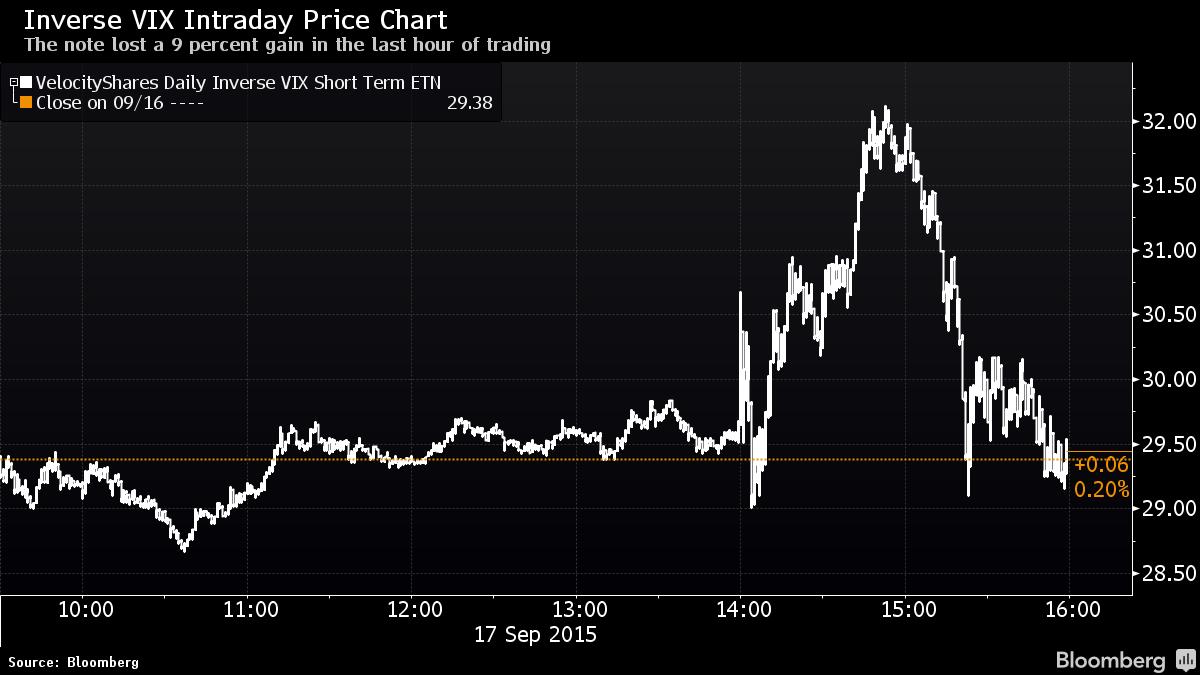 It was the latest in a series of setbacks for selling or going short volatility, for years one of the safest trades in American equities. The tactic, which amounts to speculation that stresses that are here today will be gone tomorrow, has been losing money since mid-August, when concern about the global economy spurred the worst losses in stocks since 2011.
Thursday was a particularly brutal day for the strategy as equities turned on a dime even after the Federal Reserve declined to raise interest rates.
"There were a good number of people short volatility the last few days, and as it sold off, they took a chance in buying it back," said Stephen Solaka, managing partner of Belmont Capital Group in Los Angeles. "It quickly moves to the upside as markets sell off, and will continue to be pretty sensitive going forward."
Yellen Effect
In typically frenetic post-Fed trading, the Standard & Poor's 500 Index saw a rally of as much as 1.3 percent evaporate as Yellen spoke of the potential for stress in emerging markets to spill into the U.S. The gauge tumbled 1.6 percent at 4 p.m. in New York.
Swings in the VIX were more violent, with the gauge, a measure of investor nervousness derived from the price of options in the S&P 500, trading in a 23 percent range of 18.82 and 23.33 in the final hour. It closed down less than 1 percent while a separate index tracking the VIX's volatility surged 10 percent for the biggest gap between the two since April.
Suzanne Cosgrove, a spokeswoman for the CBOE, said that despite the price swings, the VIX didn't see any anomalous fluctuations on Thursday. Russell Rhoads, senior instructor with the Options Institute at the CBOE, compared the trading activity to the buildup and volatility that sometimes occurs before and after a major earnings report.
The VIX's volatility reflected dealers in the options market pushing out bid and ask spreads as stocks looked for direction after the Fed announcement, said Pravit Chintawongvanich, a New York-based derivatives strategist at Macro Risk Advisors.
Wide Market
"Right after the text hits, nobody knows how to read it," Chintawongvanich said. "People need time to digest it, and they'll make their options market wide in the meantime to reflect that, so they don't get run over. That'll make the spot VIX chart choppy."
An exchange-traded note viewed as a proxy for selling volatility, the VelocityShares Daily Inverse VIX Short-Term, saw more than 55 million shares change hands, more than double its average volume over the past year. The security, which fell to a two-year low on Sept. 1 as the share market buckled, had recovered 34 percent since then.
Bets that the VIX will revert to its historical range haven't been paying off. Catapulted higher by the August meltdown, the gauge spent 18 consecutive days above 20 through Wednesday, its longest such streak since June 2012. Since 1990, the VIX had averaged 16.9 at the start of Federal Open Market Committee tightening cycles.
Volatility Bets
That's prompted hedge funds and other speculators to pile into wagers that U.S. equity volatility will increase. They doubled bets on increasing price swings just a week after pushing them to a record, according to data released by the U.S. Commodity Futures Trading Commission on Sept. 4.
Even after Thursday, some money managers expect a subdued level of volatility in coming weeks. To Randy Frederick of Charles Schwab Corp., investors now have a clearer idea of what the Fed plans to do in terms of starting a tightening cycle.
"Now that we know they're not raising rates this month, and with the next meeting about six weeks out, we're likely to see lower volatility between now and leading up to then," said Frederick, managing director of trading and derivatives at Charles Schwab. "There's very little chance of a change in rates over the next four weeks or so."
Global Economy
Still, inaction by the Fed puts the focus back on concerns such as China's economy and plunging commodities, stresses that sparked a selloff in mid-August that at its worst erased more than $7 trillion from global equity values.
The Fed's statement warned that economic and financial developments around the world may restrain economic activity and curb inflation. Yellen mentioned the outflow of capital from developing countries and pressures on emerging market currencies in her Q&A session.
"You have more support for the economy with the Fed still underpinning it, and less uncertainty, but some things remain unknowable," said Dan Veru, who helps oversee $5 billion as chief investment officer at Fort Lee, New Jersey-based Palisade Capital Management. "Financial markets are vulnerable as long as there's concern about a global slowdown."
Before it's here, it's on the Bloomberg Terminal.
LEARN MORE