Valcke Said to Have Sought Cash, Legal Protections to Leave FIFA
By
Suspended soccer official was Sepp Blatter's lieutenant

Secretary General was expected to step down next year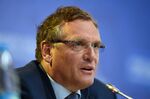 Sepp Blatter's chief lieutenant, Jerome Valcke, pushed soccer's governing body for a multi-million-dollar payoff and assurances he wouldn't be pursued for damages in exchange for quitting FIFA, according to two people familiar with the matter.
Instead, FIFA suspended Valcke on Thursday, saying it had been made aware of "a series of allegations" against the 54-year-old Frenchman and was pursuing an ethics investigation. His suspension is the latest crisis to hit the 111-year-old organization as it faces corruption probes in the U.S. and Switzerland.
Valcke, who has held the secretary general post since 2007 and has a contract through 2018, said in July he expected to leave at the same time as FIFA President Blatter. Blatter has said he'll relinquish his role when his successor is chosen. An election will be held in February.
But Valcke recently told Blatter and other FIFA officials that he preferred to leave sooner and asked for a deal that included millions of dollars more than he was entitled to under his contract as well as legal indemnities, according to the people, who asked not to be identified because of the sensitive nature of the talks.
FIFA was only prepared to pay Valcke a package that was in line with the terms of his contract and balked at his demands for legal protection, said the people.
Valcke said he couldn't discuss the matter, and his U.S.-based lawyer Barry Berke didn't return an e-mail seeking comment. FIFA declined to comment.
Corruption Probes
The U.S. Department of Justice in May indicted 14 people including former FIFA vice presidents in an investigation into allegations that corruption had plagued global soccer for decades. Attorney General Loretta Lynch said Monday at a press conference in FIFA's hometown of Zurich that she expects more charges to be filed as the case expands. Swiss authorities are investigating the decisions to award the 2018 and 2022 World Cups to Russia and Qatar. Valcke hasn't been accused of wrongdoing.
Valcke has been linked to a $10 million payment U.S. prosecutors contend was a bribe by South African officials for being chosen to host the 2010 tournament. Valcke said it was legitimate and part of a development project.
His suspension came hours after Benny Alon, an Israeli-American ticket seller, held a press conference in which he implicated Valcke in a scheme to sell World Cup tickets at inflated prices.
'Outrageous Accusations'
"Jerome Valcke unequivocally denies the fabricated and outrageous accusations by Benny Alon of alleged wrongdoing in connection with the sale of World Cup tickets," Berke said in a statement Thursday. "Mr. Valcke never received or agreed to accept any money or anything else of value from Mr. Alon."
Alon said by phone Thursday he decided to speak out because Valcke and FIFA reneged on a deal to provide tickets to his company. Alon said he's been selling tickets brought through FIFA since the 1990 World Cup. Alon released documents, seen by Bloomberg News and other media, in which Valcke appeared to discuss ticket sales via a private e-mail account.
Valcke was promoted to FIFA's second-in-command by Blatter after being suspended as marketing chief for leaking details of sponsorship talks in a case that FIFA settled in 2007 for $90 million. Since then, he's stood alongside Blatter at major events and been the point person for the World Cup, the quadrennial event that generates all of FIFA's income. The 2018 tournament is expected to raise more than $5 billion.
Blatter, whose reputation has been battered by a series of allegations against senior FIFA officials, was frustrated by Valcke's demand for money to leave, one person said. Blatter refused to sign a severance deal, according to the person.
Under normal circumstances, Valcke's proposals might have been considered, but given the criminal investigations as well as FIFA's internal probe, the organization could not provide any guarantees, the person said.