Shake Shack Picks Top British Chef to Create Special Burger for Just One Day
Sat Bains is a big personality in the restaurant world - just don't criticize his cooking
by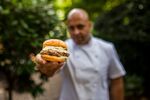 Sat Bains, a British chef whose menu starts at 85 pounds ($133), will create a burger for Shake Shack that will be served in London's Covent Garden for a single day, on Friday, Oct. 9.
Expect bold flavors: Bains is a big personality, known for his outspoken humor and robust style. Diners critique his food at their own risk. When one woman criticized one of his dishes, he reciprocated by sharing his opinion of her clothing.
Bains, who holds two Michelin stars at Restaurant Sat Bains, will serve only 500 of the Major Oak, which he developed with the New York's chain's culinary director, Mark Rosati. It will cost 7.25 pounds ($11.33).

Made with Shake Shack's Aberdeen Angus beef patty, the burger is topped with fresh shallots and a slice of Beauvale cheese from Cropwell Bishop Creamery in Nottingham, where Bains is based. Bains also created a forest-inspired ketchup made of seasonal "Penny Bun" mushrooms flavored with pine salt from the needles of local trees, as well as a smoked mayo with a hint of charcoal from the red oaks from Sherwood Forest.
Last year, Shake Shack collaborated with the three-star Italian chef Massimo Bottura, of Osteria Francescana, who created the Emilia burger for one day.
Richard Vines is the chief food critic for Bloomberg. Follow him on Twitter @richardvines
Before it's here, it's on the Bloomberg Terminal.
LEARN MORE