Pressed on Plans to Cut Deficit, Sanders Is Short on Specifics
During an interview with Bloomberg's With All Due Respect, the presidential candidate from Vermont said "it depends on the economic situation."
By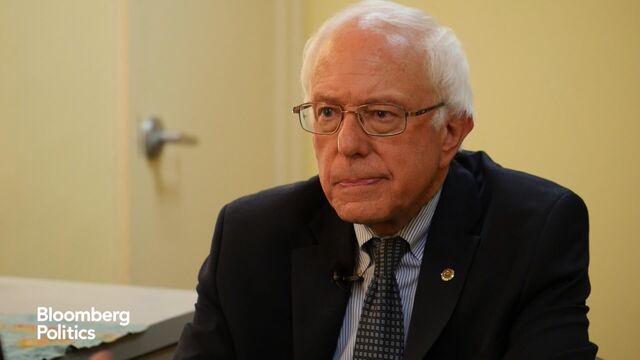 Senator Bernie Sanders calls himself "one of the major deficit hawks in the United States Congress." But what would he cut as president? 
During an interview with Bloomberg's With All Due Respect, the Democratic candidate for president said that he would look to the defense budget for spending cuts and to "make it a much more efficient budget than it is." When pressed for specifics, he pointed to a "variety of weapons systems that are designed to fight the Cold War," including nuclear weapons and aircraft carriers.
He also said the nation needed to rethink the amount of military bases it has in Europe. "I think it is important we review the degree to which we have to defend countries whose middle class is stronger than ours," Sanders said.
When pressed to name specific military bases, Sanders said, "It's a good question but I can't give you a specific answer at this point."
Sanders also refused to get specific about what his target GDP would be as president, saying he "can't pick a number." 
When asked if he would aspire each year to bring down the deficit, the presidential candidate from Vermont said "it depends on the economic situation." While he admitted that "the deficit is important," he said issues like job growth, rebuilding infrastructure, college tuition and childhood poverty are "more important."
One thing is certain: In a Sanders presidency, his first budget would not be a balanced one. "No, no, you could not do that," he said.