Pope Heads to Climate Talks as Rare Word -- Optimism -- Surfaces
By
Leaders press for greenhouse gas cuts ahead of Paris meeting

Billions in climate aid for poor countries still at issue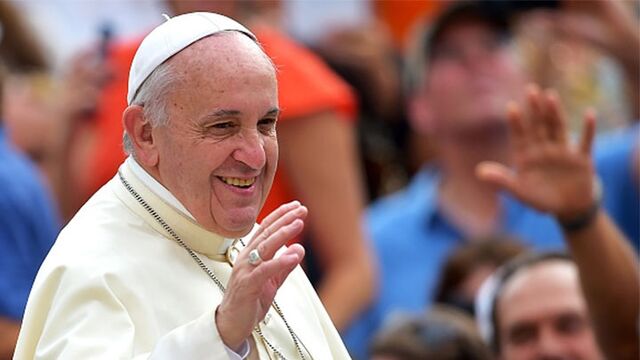 Optimism's not a mood usually associated with global warming.
Yet when President Barack Obama, Pope Francis and other world leaders start gathering in New York next week, they'll be in sight of a goal that seemed unattainable just a few years ago: an agreement that may actually slow the pace of rising temperatures.
The Pope will address the United Nations on Sept. 25 and is expected to pick up where he left off in a June letter to the world's Catholics, making the moral argument for attacking climate change. Two days later, Obama will meet with leaders from China, Germany, France and close to 40 other nations, hoping to give a push from the top for a deal to rein in greenhouse gases.

It's a far cry from Copenhagen in 2009, when the last UN attempt at a climate pact ended in chaos and finger-pointing between developing countries and wealthier, industrialized nations. Six years later, the talks are back on track, with New York the latest stop on a road that organizers hope will end with a landmark agreement in Paris in December.
After years of diplomatic jockeying, "there finally is momentum," said David Waskow, director of climate initiatives at the World Resources Institute, a Washington-based research group. "The arrows are all pointing in the right direction."
The turnaround's come amid a host of developments: a half-decade of increasingly irrefutable science pointing to the dangers of a warmer world, from extended droughts to rising sea levels and raging forest fires; a veritable revolution in clean energy that's offered more affordable alternatives to fossil fuels; and years of diplomacy designed to bring fast-growing nations like China and India into the fold for pollution limits.

While there are questions about whether the final deal will go far enough, policy makers are more hopeful than they've been in years.
"It is light-years different from Copenhagen," said Nick Nuttall, a UN spokesman. "The Paris agreement will happen. Let's see how ambitious it will be, but we think it will be a good one."
The new agreement would commit more than 190 nations to limits on heat-trapping pollution, albeit through voluntary pledges. The goal is to keep warming this century below 2 degrees Celsius (3.6 degrees Fahrenheit), the guard rail recommended by scientists for avoiding the most dangerous disruptions to the environment.
$100 Billion a Year
Success is hardly assured. The talks are still far apart on key issues, including how the industrialized world will provide the $100 billion a year in climate aide it's promised to developing countries. The legal force of any agreement is still up in the air as well. The Obama administration has pushed for a less formal agreement rather than a treaty to avoid bringing the deal before a Republican Congress that would surely work to block it.
Even if an accord is reached, it's unclear how much it can accomplish.
After Copenhagen, negotiators scrapped the idea of mandatory greenhouse-gas cuts in favor of a system that lets each country pledge whatever steps it's willing to take. That's made a deal more politically palatable for many countries; it also leaves progress less certain, said Nigel Topping, the London-based chief executive officer of We Mean Business, a business-backed group that supports a climate deal.
"The big plus is we will have every country committing to their contribution," Topping said. "The challenge is whether they add up to enough action."
Warmest Year Ever
The current year is on track to be the warmest ever recorded, surpassing the mark set last year. NASA scientists said last month that new satellite data show sea levels are rising faster than originally predicted, with an increase of at least 3 feet (91 centimeters) "unavoidable" at this point.
More than 30 governments have submitted climate plans to the UN so far, including the world's top three greenhouse emitters: China, the U.S. and the European Union. Several developing countries where emissions are expected to grow the fastest, including India, have yet to submit their pledges, though they've promised to do so by the time of the Paris meeting.

The 28 EU nations, during a meeting in Brussels Friday, said the final accord should call for a 50 percent reduction in greenhouse-gas pollution by 2050 and needs to be legally binding.
Obama's meeting with other heads of state in New York is intended to nudge the process forward. Alongside the UN sessions, banks, business leaders, cities and other parties will hold dozens of side meetings during a New York Climate Week, offering commitments to lower emissions, finance clean-energy projects and take other steps.
Pope Francis,meanwhile, will be in the U.S. serving as the climate's most prominent traveling salesman. He'll meet with Obama in the White House and then become the first pontiff to address the U.S. Congress on Sept. 24. A day later, he'll speak to the UN general assembly in New York before heading to Philadelphia. Throughout, he's expected to focus on the impact of climate change on the poor and the need for a global deal, said Dan Misleh, executive director of the Catholic Climate Covenant in Washington.
For Francis, "this is a justice issue," Misleh said. "There are countries that are contributing the most of the problem and there are countries that are suffering the most of the impact, and I think he's going to try to draw the connection and say this is a global responsibility."