Harper Rivals Trade Barbs in Battle to Win Canada's Change Vote
Josh Wingrove and Jeremy van Loon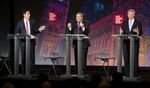 The two top opposition contenders to unseat Canada's prime minister squared off Thursday in a debate over who has a better economic plan to replace Stephen Harper.
With polls showing a strong desire for change in the narrow three-way race for the Oct. 19 election, Liberal Leader Justin Trudeau and Tom Mulcair of the New Democratic Party laid out competing proposals for new spending and how it should be financed.
Trudeau, 43, is staking his hopes on a bet that Canadians will prefer his deficit-financed infrastructure plan over the 60-year-old Mulcair's insistence that any new social programs should be paid for by tax increases on corporations. Harper, 56, is campaigning for a fourth term on tax cuts and spending restraint.
"Interest rates are low, our debt-to-GDP is low and economic growth has been flat," Trudeau said at a debate hosted by The Globe and Mail in Calgary, the heart of Canada's oil patch. "We need to kick-start our economy and that's exactly what we're going to do."
The debate was the second of five in the campaign and the only to focus entirely on the economy. It comes after two consecutive quarters of negative growth to start the year as the country grapples with an oil-price shock.
Harper regularly attacked his rivals and their proposals as a risk that could stunt the country's economic rebound. But the prime minister avoided the fray in many of the exchanges, repeating calls for voters to stay the course in challenging global circumstances.
'Another Choice'
"Mr. Harper wants to hit the snooze button while Mr. Trudeau wants to hit the panic button," said Mulcair, who has held a thin but persistent lead in the campaign as he shifts his labor-friendly party toward the center. The NDP has never formed government nationally but won a surprise majority in Alberta this spring.
"For the first time in our history there is another choice," Mulcair said of the decision facing voters next month.
Harper, whose Conservative government took power in 2006, stressed his record in guiding Canada through the global financial crisis. "We are the only party not talking about raising any of your taxes going forward, or not talking about running deficits going forward," the prime minister said.
Both opposition leaders criticized Harper for the slumping economy, and for relying too heavily on the country's oil sector, which was hobbled when crude dropped below $50 per barrel. "Mr. Harper put all his eggs into one basket then he dropped the basket," said Mulcair, who is proposing to raise corporate taxes to 17 percent from 15 percent in order to fund a flagship universal daycare program.
No Clear Winner
The debate ended as "mostly a wash," according to pollster Frank Graves of Ekos Research. Mulcair was "polished and confident" while Trudeau was "a bit excited but had the best content," the pollster said.
Harper stood his ground, defending his economic approach while acknowledging the malaise. Pressed on concerns about a possible real-estate bubble, he called Canada's housing sector a Canadian success story that is buoyed by low interest rates.
"I never said things were great," the prime minister said. "The questions I'd ask people at home is the following: In the last 10 years, where would you rather have been? In all this global economic instability, where would you rather be than Canada?"
Oil-Patch Woes
The energy sector also loomed large. Trudeau and Mulcair criticized Harper for failing to secure approval for pipeline projects, such as TransCanada Corp.'s Keystone XL, in part because of what critics call lax environmental regulation.
"Under Stephen Harper's stewardship, we have not built one kilometer of pipeline to tidewater, and it's easy to understand why -- he's gutted a whole series of environmental laws," Mulcair said.
On the same topic, Trudeau added: "With friends like Stephen Harper, Alberta doesn't need enemies."
Harper dismissed the criticism and said on the Conservatives would support oil producers. "It's been a very important driver of the Canadian economy," the prime minister said. "That sector needs a government that is on its side."
Feisty Exchanges
With no clear winner, the 90-minute debate will probably do little to break the three-way deadlock in the campaign. "Voters didn't get what they wanted tonight," said Elly Alboim, a political consultant who teaches journalism at Ottawa's Carleton University.
Undecided voters who tune in are seeking information on platforms, he said, not bickering, testy exchanges or personal attacks. In one such incident, Mulcair elicited laughter from the crowd with a jab at the Liberal leader's behavior outside of work.
When Trudeau -- who has admitted to smoking marijuana since being elected -- at one point referred to Mulcair's proposals as "puffs of smoke," the New Democrat shot back: "You know a lot about that, don't you Justin?"