business
JPMorgan's Dimon Says Violent Moves in Treasuries Are Possible
By
CEO says the Treasury market is one thing he worries about

Comments aren't a prediction, just a possibility, Dimon says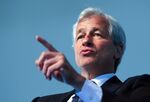 Jamie Dimon, JPMorgan Chase & Co.'s chief executive officer, said the bank will be prepared for the possibility that Treasury prices move violently when interest rates rise.
"The one thing I do worry a little bit about, by the way, is Treasuries," Dimon said Friday at a conference in New York sponsored by Barclays Plc. "Interest rates have been so low, for so long," he said, adding that some traders and their managers have never experienced a rising interest-rate environment.
The U.S. banking system is much safer now because of higher capital and business diversification, said Dimon, 59, responding to a question about whether the next U.S. credit downturn would come from banks or non-banks. In April, he called volatility in the Treasury market in late 2014 a "warning shot" to investors.
"So I wouldn't be shocked to see 10-year Treasuries, when rates are going up, people change their mind, they change direction, that they will be violently volatile and go up much faster than people think," Dimon said. "I'm not predicting that. I'm simply saying in the back of my mind, I think that's a possibility."
His comments followed the biggest single-day rally in six years for two-year Treasuries. After the Federal Reserve announced Thursday it would keep interest rates near zero, yields on the policy-sensitive note dropped by 13 basis points, the steepest decline since the central bank announced it would expand its bond-buying program in March 2009. The rate on 10-year notes fell 10 basis points to 2.19 percent.
JPMorgan has "about the same" third-quarter trading-revenue trends as other banks that have disclosed expectations at the conference, Dimon said. Executives from Bank of America Corp. and Citigroup Inc. have said they probably will report a 5 percent drop in third-quarter trading revenue.
"September is still to go, so who knows," Dimon said. "I think people are massively over-focused on those numbers."
— With assistance by Alexandra Scaggs
(Updates with Treasuries rally in fifth paragraph.)
Before it's here, it's on the Bloomberg Terminal.
LEARN MORE