In Some Cities, Even Landlords Think Rents Are Getting Out of Hand
Investors think rent increases are slowing
By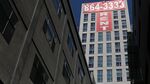 It's tough to be a renter. Housing costs, in many markets, are rising faster than wages, and there is good reason to think that trend will continue for years to come. 
For renters in Austin, Boston, San Francisco, and Houston, however, there may be a slightly less depressing future, a new report shows. Periodically, commercial real estate firm CBRE polls brokers on the rent-growth expectations that apartment landlords are baking into property transactions. And for prime properties in those four cities, those expectations are coming down, according to its most recent report.

The chart shows that an apartment in San Francisco that costs $3,500 a month in 2015 is likely to cost $4,000 by 2018. That may seem like a healthy increase, but it's a smaller hike than investors were projecting last year. In addition to the five cities shown above, CBRE surveyed expectations in New York, Los Angeles, and other major metros where expectations for rent growth hadn't changed from 2014 to 2015. Washington is the only city in the survey where investors see rent growth accelerating.
A bit more about the data: Jessica Ostermick, director of research for CBRE, said that investors tend to be conservative when thinking about rent trends, leaning more heavily on historical averages than on recent rent spikes when valuing an apartment building. And the data describe the "highest quality" apartment assets in specific parts of the broader metropolitan areas—downtown Boston, the San Francisco neighborhood called South of Market, and so on.
From a renter's perspective, the most optimistic reading is that slower rent growth in the high-end market will lead investors and builders to shift their focus to apartments with lower rents, helping to ease rent increases across markets. Whether and when that happens are open questions—but given the recent run of rent growth, it's nice to have a glimmer of hope.