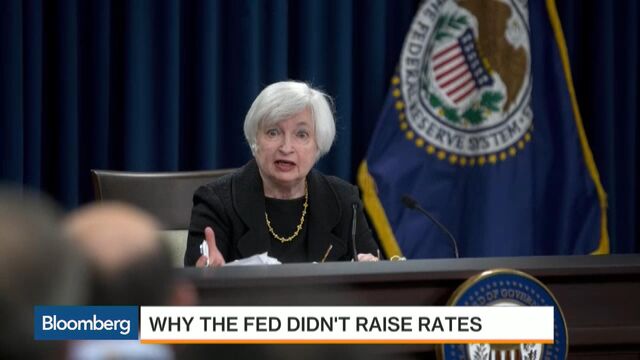 Federal Reserve Chair Janet Yellen wants you to know that a rate increase is possible at the policy-setting committee's Oct. 27-28 gathering. Don't hold your breath.
"Every meeting is a live meeting where the committee can make a decision to move to change our target for the federal funds rate," Yellen said at her press conference Thursday in Washington. "That certainly includes October."
Economists and investors don't view an October move as likely. The chart below shows market expectations for an increase before December have shifted down dramatically. The Septemberists pushed their calls to December or 2016, not October, after the Fed announcement that rates would stay near zero. 

Here are three key reasons not to expect the first interest rate increase since 2006 next month.
Global Clouds Take Time to Clear
Yellen highlighted global economic uncertainty during her post-meeting press conference, referencing heightened concerns about China and other emerging market economies that have led to volatility in financial markets.
"While we still expect that the downward pressure on inflation from these factors will fade over time, recent global economic and financial developments are likely to put further downward pressure on inflation in the near term," she said in her opening statement. 
Those external risks aren't likely to clear up in the course of the next six weeks.
"The outlook is pretty much unchanged, it really came down to uncertainty, and it's uncertainty about the extent of the slowdown in China and how that might skew risks to our outlook in the U.S.,'' said Aneta Markowska, chief U.S. economist at Societe Generale in New York. "I worry that they might not get that clarity that they want by the October meeting."
Not a "Hawkish Hold" 
Ahead of the meeting, many economists expected what they called a "hawkish hold," in which the Fed would keep rates near zero while emphasizing that liftoff was coming. Thursday's statement and press conference did not fulfill that expectation. While 13 of 17 officials still see a rate hike this year,  neither Yellen nor their forecasts sent a strong signal that an increase is imminent.
"The tone of the statement itself was clearly dovish, Yellen's press conference was dovish, the tone of the'' Fed's economic projections  "was dovish," said Millan Mulraine, deputy head of U.S. research and strategy at TD Securities in New York. Mulraine says he thought that October wasn't a realistic option going into the meeting and maintains that view, and TD expects the Fed to hold off until next year.
Stephen Stanley, chief economist at Amherst Pierpont Securities, notes in a report to clients that the Federal Open Market Committee's  reasons for holding -- worries over the growth and inflation implications of market turmoil and a slowdown abroad -- were concerns that will be resolved only with time.  "Based on my interpretation of the FOMC statement, I do not see much of a chance of a move in October," wrote Stanley, who had projected September.
"That pushes off the prospects for liftoff until at least December."
The Press Conference Problem
The Fed only holds press conferences every other meeting, and the next one is scheduled for December. That said, they've tested a teleconference option that allows them to call a conference at any time, and theoretically that's what they'd do if liftoff occurred in a gap month. Still, some economists think the Fed is biased toward a meeting with pre-scheduled conferences. 
The Committee would need to announce an impromptu press conference in the statement announcing the rate hike itself, because doing so earlier would lead the market to conclude that an increase is coming without providing an explanation, Goldman Sachs Group Inc. economists Zach Pandl  and Jan Hatzius wrote in a note following this week's meeting. "This all seems too sudden and dramatic for a committee that, we think, would like the first hike to be as unexciting as possible."