Credit Suisse: Tech Startups With Sky-High Valuations Are No Longer Special
"Unicorns," actual technology companies with possibly mythical valuations, are becoming more common.
By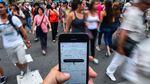 It used to be a really big deal to find a private tech company with a valuation of more than $1 billion.
Not anymore, says Credit Suisse. 
According to a 52-page note published this morning by analysts led by Eugene Klerk, the club of so-called unicorns (named for their possibly mythical valuations) just isn't as exclusive as it used to be. Some 124 startups now boast $1 billion valuations, Credit Suisse says, up from just four in 2009. Meanwhile, private tech companies such as Uber boast valuations greater than $50 billion. Only 87 of the companies in the S&P 500 can say the same thing.

By Klerk and his team's calculations, which are based on CB Insight data, the total implied valuation for all these unicorns combined comes out to a cool $468 billion. That's a 36-fold increase from $13 billion in 2009.
How is it possible to see such enormous growth?
There is, of course, some fuzzy math that goes into the valuations, which Bloomberg highlighted earlier this year. (Hint: the numbers are somewhat inflated as investors engage in a "you scratch my back, I'll scratch yours" dance with company management.)
You also have some bigger funds investing in the startups simply because they know they will have to have them in their portfolio for clients at some point, so why not get in before they go public?
Here's a look at the most valuable unicorns out there. 

Even though becoming a unicorn isn't as special as it used to be, Credit Suisse points out that a number of public companies are choosing to partner with the expanding market for private tech startups, many of which fall under the "sharing economy" bracket.
For instance, Google, Ford, GE, Barclays, and Starbucks "have been most active during the past few years with establishing agreements with sharing companies."
Examples include Google and Tesla collaborating with Lending Club (the world's biggest peer-to-peer, or marketplace, lender, which itself went public late last year) and Barclays working with 3Space to hand over its underutilized offices to "social entrepreneurs, early-stage local businesses and community groups."