Carly Fiorina Stands on Sarah Palin's Shoulders
Thanks to Palin, Fiorina does not have to make being a woman the point.
By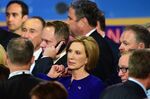 You may have liked the low-fives, the Secret Service codenames, or Jeb Bush's talk of toking, but by many accounts, the high point of Wednesday's prime-time Republican presidential debate came about an hour in, when CNN moderator Jake Tapper asked Carly Fiorina about Donald Trump's remarks about her face. (Specifically, Trump had told a Rolling Stone reporter, "Look at that face! Would anyone vote for that? Can you imagine that, the face of our next president?") Eyes were beginning to wander to other, smaller screens, or maybe even glaze over at that point in the festivities, but Fiorina marched American pupils back to attention. "I think women all over this country heard very clearly what Mr. Trump said," she pronounced. Her face, in that moment, was a lapidarist's dream: the savviest, most polished stone. She seems, sometimes, to speak from a teleprompter in her mind.
No matter how many of the 2016 Republican presidential candidates stand onstage, in a given primary moment, Fiorina is the only one who isn't in a suit and tie. The predictable, servile eye is drawn to this difference. Fiorina knows this, and on Wednesday took advantage. "Women all over this country heard very clearly," she told Tapper, just as she told him, after the first debate, "Women understood that comment" from Trump about Fox News journalist Megyn Kelly. "And yes," she continued, "it is offensive." Amid the same controversy, Fiorina told CBS, "I think women of all kinds are really sort of horrified by this."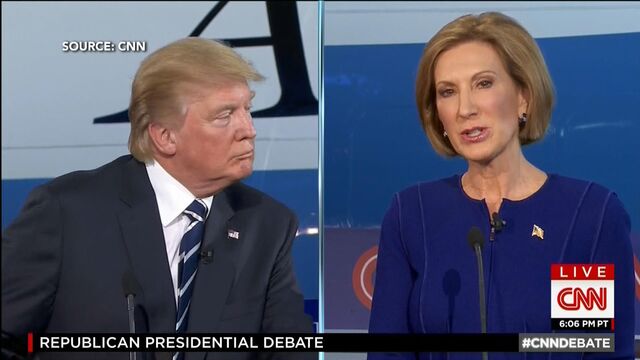 Fiorina speaks about women in the universal. When Tapper asked on Wednesday night which woman should appear on the $10 bill, Fiorina replied, "I wouldn't change the $10 bill, or the $20 bill. I think, honestly, it's a gesture. I don't think it helps to change our history. What I would think is that we ought to recognize that women are not a special interest group. Women are the majority of this nation. We are half the potential of this nation, and this nation will be better off when every woman has the opportunity to live the life she chooses." She speaks for all womankind knowing that, in this arena, there will be no woman who can dispute her—and knowing that the men likely wouldn't dare. 
Not that she never casts a personal light. In a discussion of addiction and criminal-justice reform, Fiorina spoke of the devastation of losing her child, her stepdaughter, to drug addiction. But on so-called "women's issues," she chose a different path. Speaking about abortion, she said nothing that a man couldn't say. At the Reagan Library, unlike on the stump, Fiorina did not speak about her breast cancer, or of being a step-grandmother, or of what she learned from losing her job. In the debate, she made little show of being vulnerable, soft, traditionally womanly.
Instead, she let the fact of being a woman do the work. She is a candidate who insists that her gender does not change her position on abortion access, paid maternity leave, or the gender wage gap. In June, at an event in Washington called a "Bourbon and BBQ Bash," she gave a speech on "the state of women in America" and argued that conservative policies were better equipped to help lift women than liberal ones. 
She scored a major applause point when she connected the matter of abortion access to foreign policy. "I'd like to link these two issues," she said. "Both are incredibly important. Iran and Planned Parenthood. One has something to do with the defense of the security of this nation. The other has something to do with the defense of the character of this nation." That's my kinda woman, those in the Reagan Library might have been thinking.
When Fiorina emerged as a presidential candidate, there were a rush of comparisons between her and Sarah Palin, the woman candidate Republican hand-picked, many argued, to neuter the history Democrats could make with the first black president. Palin, unlike Fiorina, had been elected in government before running, but she was gaffe-prone, less disciplined. Fiorina is concertedly and excruciatingly on target.

There is another, more important difference between the two. Palin was a woman elevated to the high ranks of the Republican Party at a time when no other woman could be treated like an incumbent in American presidential politics, as Clinton is today. When Palin emerged as a figure in national Republican politics, her gender was, in great part, the story. A Republican woman in the executive branch, who'd have imagined before. Thanks to Palin, Fiorina does not have to make being a woman the point. This isn't to say that Fiorina doesn't, or won't, know sexism. But when Palin was alone among men, her gender was the focus. Fiorina's isn't. 
Fiorina might have been a McCain/Palin surrogate. She writes in her book Rising to the Challenge: My Leadership Journey, which was published this May, that two days before McCain's campaign announced his vice-presidential pick in August 2008, the senator called Fiorina and informed him of his choice. "He had a request," Fiorina wrote:
"She's going to need help, Carly," he said. He wanted me to help her get up to speed on the economic issues facing the country. The subprime mortgage crisis had been building for months. bear Stearns had been bailed out in March. Lehman Brothers would fall in a matter of weeks. I told Senator McCain I woud be glad to help her.
The help session never happened, perhaps owing to a comment Fiorina made on a radio show in St. Louis that Palin wasn't qualified to run Hewlett-Packard. "To this day I have never met her," Fiorina wrote.
Palin's emergence into the national public sphere meant immediate focus on her appearance—her femaleness and femininity. Her sexiness. As soon as McCain announced her as his running mate, Palin's rimless eyeglasses sold out. Women told hairdressers they wanted Palin's hairdo. The Wall Street Journal reported that "women across the U.S. are snapping up Sarah Palin's shoes," the red peep-toe patent leather pumps made by Naughty Monkey. In her speech at the Republican National Convention in September 2008, Palin said, "You know, they say the difference between a hockey mom and a pit bull? Lipstick." From the podium, she blew a kiss.
Palin posed for a photo with Runners World that Newsweek later put on its cover: Wearing short shorts and a fitted red top, two Blackberries in hand, leaning against an American flag. (Palin criticized Newsweek's usage as "out-of-context," "sexist and oh-so-expected.") In 2011, a writer at the Washington Post wrote, "Folks want to be able to envision someone sitting in the Oval Office. They don't necessarily want to envision them in the pages of Esquire magazine's "Sexiest Woman Alive 2011" or Maxim. She can't possibly be taken seriously as a presidential contender dressed like that, especially since this is the second time she has graced Newsweek in a less-than-presidential pose."
The writer later acknowledged that he "should know better than to comment on a woman's appearance."
Carly Fiorina stands on Palin's shoulders. And she knows how to strike a presidential pose.