Carly Fiorina Stands on Sarah Palin's Shoulders
Thanks to Palin, Fiorina does not have to make being a woman the point.
By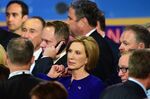 You may have liked the low-fives, the Secret Service codenames, or Jeb Bush's talk of toking, but by many accounts, the high point of Wednesday's prime-time Republican presidential debate came about an hour in, when CNN moderator Jake Tapper asked Carly Fiorina about Donald Trump's remarks about her face. (Specifically, Trump had told a Rolling Stone reporter, "Look at that face! Would anyone vote for that? Can you imagine that, the face of our next president?") Eyes were beginning to wander to other, smaller screens, or maybe even glaze over at that point in the festivities, but Fiorina marched American pupils back to attention. "I think women all over this country heard very clearly what Mr. Trump said," she pronounced. Her face, in that moment, was a lapidarist's dream: the savviest, most polished stone. She seems, sometimes, to speak from a teleprompter in her mind.