Can Germany Beat the U.S. to the Industrial Internet?
Germany's plan to jump-start Web-linked factories faces competition.
By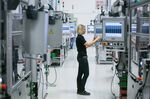 For your job to be taken seriously in Germany, goes the joke, it should start with an "e-" and end in "-ngineering." Yet German officials fret that for all their country's hardware know-how, the economy is at risk in a world where software is king and factories are increasingly linked by the Internet. Worse, an effort to give German companies an edge in building the factories of the future is under threat from a similar initiative sponsored by U.S. tech companies.
"There's great concern that a Google or an Apple might master the manufacturing world," says Heinz-Jürgen Prokop, head of development at Trumpf, a family-owned maker of metalworking machinery that's participating in a program called Industrie 4.0. "It's important that we try to do it ourselves while we still have the opportunity."
Industrie 4.0's alliance of companies, academics, and political leaders was launched by the German government two years ago. The idea was to encourage the small enterprises at the heart of the economy—what Germans call the Mittelstand—to embrace new technologies. Then last year, AT&T, Cisco Systems, General Electric, Intel, and IBM set up a similar initiative called the Industrial Internet Consortium, or IIC.
Both groups aim to make it easier for machines in factories throughout companies' supply chains to communicate with one another. The goal: to reduce downtime by anticipating when a factory will have spare capacity or need replacement parts, for example. Built-in sensors will collect all manner of data to better allocate resources, helping manufacturers cut energy use by as much as 20 percent and labor costs by 25 percent, according to consultant McKinsey.
At stake is the health of German manufacturing, which employs 15 million people, about a third of the workforce. By 2020, Industrie 4.0-related projects will account for half of capital investment by German manufacturers, or some $45 billion, according to PricewaterhouseCoopers. Globally, investment in the industrial Internet will top $500 billion a year in 2020, up from $20 billion in 2012, researcher Wikibon estimates. To avoid falling behind, the "Mittelstand must maintain contact with the customer and not lose out" to software companies that might end up with valuable market data, says Volker Treier, deputy head of the German Chambers of Commerce & Industry.
Germany was slower than Britain to capitalize on the 18th century industrial revolution, when mechanized production was driven by steam. In what the Germans call the second industrial revolution, around the turn of the 20th century, assembly lines powered by electricity became the norm, and Germany was a trailblazer, led by companies such as Siemens. A third phase began midcentury with computer-regulated production, and the name Industrie 4.0 refers to what Germany sees as the next wave—machines talking to one another.
The Germans have some advantages as that market takes off. Unlike in computing, with its standardized suite of keyboards and USB connectors, there are no dominant standards in industrial equipment. That gives the hardware makers of today—even small fry like Trumpf—an edge over giants like Google or Apple. To seize that opportunity, Trumpf last year quadrupled its coding staff, to about 25. "We recognized that we needed far greater IT expertise," Prokop says. "We needed to be able to analyze data."
For all of Germany's concern about maintaining its edge in the new industrial economy, Industrie 4.0 acts primarily as a cheerleader and offers little in the way of financial help. Politicians and labor representatives have a strong hand in setting the group's agenda, which focuses mostly on sponsoring research at top universities.
The U.S.-dominated IIC, by contrast, coordinates trials of new technologies. It says it has launched 11 experiments, such as a system to track handheld tools to ensure they're used effectively and a 100-gigabit-per-second network to connect machinery. Although the group hasn't tallied total investment, GE alone says it's spent $1 billion on industrial Internet projects in the past four years. IIC, which has grown to 200 members, including Japan's Hitachi and even Germany's SAP and Siemens, then shares its results. "The big difference is that Industrie 4.0 is driven by the government and is unmistakably part of industrial policy," says Krzysztof Bledowski, director of economic studies at the Manufacturers Alliance for Productivity & Innovation in Arlington, Va. The IIC "is already getting together to do joint experiments."
While the IIC appears to be out in front, Germany's approach could lead to greater progress down the line as the adoption of greater connectivity in manufacturing could take decades, says Rainer Glatz, who leads Industrie 4.0 projects at the VDMA German machine makers' association. "In the U.S. they want to make lots of small steps as quickly as possible," Glatz says. "In Germany, the effort is far more theoretical: Find the model first and then move toward implementation."
The bottom line: A German program to bolster its manufacturers is at risk of being eclipsed by a similar U.S.-led initiative.
Before it's here, it's on the Bloomberg Terminal.
LEARN MORE