What's Behind Marco Rubio's Mr. Nice Guy Campaign?
It's a contrast to his 2010 Senate bid, when he took off the gloves early against his chief Republican rival—and won.
By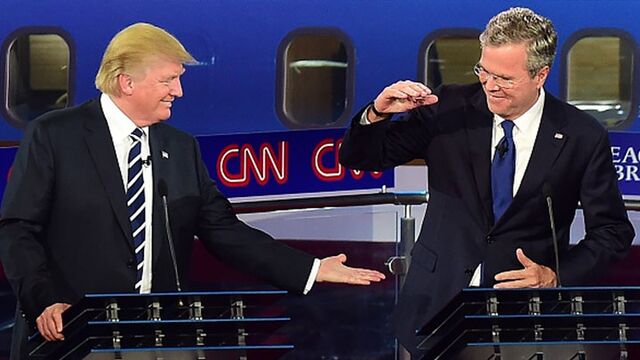 During an unusually personal and often testy Republican presidential debate Wednesday, Marco Rubio stayed his optimistic course. While a number of feuds within the crowded field intensified, the Florida senator refused to deviate from his message about reviving the American dream. And he refused to lay a finger on any of his rivals.
Unlike many of his fellow top-tier candidates, he didn't interrupt, he didn't initiate personal attacks, he didn't avoid policy details, and he obeyed Ronald Reagan's 11th Commandment, "Thou shalt not speak ill of any fellow Republican." He went after President Barack Obama's policies on Syria and Russia and discussed immigration. He resisted an opportunity to double down on criticism of Donald Trump's lack of foreign policy expertise. He turned the other cheek when Trump attacked him for having the worst attendance record in the Senate.
The resolutely non-confrontational posture by Rubio is causing some head-scratching among political observers, not only because it defies conventional wisdom about how to break out of the crowded field but also because of the way it contrasts with the strategy that helped catapult him from relative obscurity to a U.S. Senate seat six years ago. He has held to his approach as he slipped to the middle of the pack this month. The latest surveys show him anywhere from a distant third place in a New York Times/CBS poll tie to as low as seventh in a CNN poll. His performance in the first debate on Aug. 6 drew wide praise on the right but didn't help his standing. Political betting markets give Rubio a 14 percent chance of being the nominee. Which raises a question: Is Rubio running for something other than the presidency?
There are two working theories: He wants to be the most viable vice presidential candidate or he's aiming for Florida's soon-to-be-open governorship. Rubio's campaign insists he's focused on the presidency, but the speculation does help explain why Rubio has been so uniquely unwilling to engage the afterburners.
"Given a 16-member field you've got to distinguish yourself somehow, and being rather passive doesn't seem to be a way to distinguish oneself," said William Claggett, a political science professor at Florida State University. "And Rubio is also competing for media attention, and media likes conflict, not everybody being nice."
Rubio's establishment rivals facing similar woes have changed course—former Florida Governor Jeb Bush has gone on offense against Trump. Wisconsin Governor Scott Walker has crafted a scrappier stump style. Rubio meanwhile has stuck to the same theme and tone, polishing his optimistic message and his persona as a fresh conservative leader for a new era. If he falls short, it's hard to imagine the young rising star, who has held elected office almost consistently since his late 20s, quitting politics at this juncture.
"He's a young guy who's got a great future ahead of him no matter what happens," said Rick Wilson, a Florida-based Republican strategist who's unaffiliated in the presidential contest.
Fallback plan?
So, what's the fallback plan?
One theory is he wants to be the most viable vice presidential pick. His appeal is obvious—a young, charismatic figure who's well-liked in the party and can appeal to the powerful Latino voting bloc in key swing states like Florida, Colorado, and Nevada. (Walker, a rival, has mischievously floated Rubio as a good V.P. pick.)
"I think he's just so great. I think having him on the ticket is smart," said Katie Packer Gage, a consultant who served as Mitt Romney's deputy campaign manager in 2012. "To have a candidate who's Hispanic, speaks Spanish, it's a very different kind of Republican. He's young." But she warned not to underestimate him by relegating him to V.P. status.
The second theory is Rubio may run for Florida governor in 2018. Incumbent Rick Scott is termed out while Rubio, a proven fundraiser who has already won statewide office, could be an early favorite if he runs.
This week, after Rubio hired Mitt Romney's 2012 policy director, Lanhee Chen, conservative radio host and Fox News contributor Erick Erickson speculated that Rubio "has a number of people around him who've decided his actual play is to use a presidential run to springboard into the Florida Governor's Mansion."
Rubio's aides reject the idea that he's mulling fallback plans. "That's silly," Rubio spokesman Alex Conant said after the debate. "I think Marco's going to be the nominee." He insisted the campaign isn't worried about the polls. "We've always taken the long view on these things and not worried too much about the short-term," Conant said. "We have a strategy to be first in February, not first in September." The first votes of the nominating contest will be cast Feb. 1 in the Iowa caucuses.
Wilson said Rubio appears focused on running for president. "I'm among the group of people who'd have a good idea if he was running for governor, and he's never discussed it," he said. "It's not the game plan."
"His message is terrific," he continued. "It's right on target. it's optimistic and, dare I say, Reaganesque conservatism. When people hear Marco speak they come away inspired."
'It was all hammer and tongs'
The freshman senator candidate's refusal to go negative provides a marked contrast to his 2010 Senate campaign, when he overcame a 35-point deficit to defeat popular Republican Governor Charlie Crist in the primary en route to a landslide victory in the general election. The little-known Rubio took off the gloves early, unveiling a Web ad in May 2009 tying Crist to Obama and "Washington's same old broken ways"—including "trillions in reckless spending, borrowed money from China and the Middle East, mountains of debt for our children."
"From there," said Wilson, "it was all hammer and tongs. That whole affair—there was a stark contrast from the very beginning." Crist eventually grew desperate as he fell behind in the polls, flinging attacks that the Associated Press reported were "exaggerated, take words out of context, aren't true or over the top." He lost the primary by 23 points.
Rubio's presidential strategy is different in this respect. Instead of highlighting his rivals' weaknesses, he is betting Republican voters will perceive them and gravitate to him. Claggett noted the risk of going negative on the front-runner. "Trump has shown that he has a base of support within the party," he said, "and certainly if you're thinking about the future you probably do not want to alienate this large chunk of the electorate." The contrast between Trump, who represents white nativist anxieties in the base, and Rubio, who represents a more diverse and inclusive party, is stark.
So, what if Rubio loses the battle? "He'll run again," Gage surmised. "He's got a long time."