U.S. Stocks Fluctuate Amid Split Views Before Fed Rate Decision
By and
Economists are divided on rate move amid China, global growth

S&P 500 rallied 2.2% over previous two trading sessions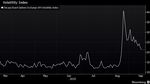 U.S. stocks fluctuated after a two-day rally, as investors' opinions remained split on whether the Federal Reserve will raise interest rates for the first time in almost a decade.
The Standard & Poor's 500 Index rose 0.2 percent to 1,998.41 at 12:55 p.m. in New York. The benchmark index gained 2.2 percent over the previous two days. The Dow Jones Industrial Average added 20.58 points, or 0.1 percent, to 16,760.53. The Nasdaq Composite Index increased 0.4 percent. Trading in S&P 500 companies was 20 percent below the 30-day average.
"The closer we get to the rate decision of the Fed, the more nervous the markets get,'' said Christian Zogg, who helps oversee about $10 billion at LLB Asset Management in Vaduz, Liechtenstein. "If they raise, the first reaction will be negative, but then after a few days the market will come back because the market will realize that a 25 basis-point move has no material impact on the economy.''
U.S. stocks jumped to a four-week high on Wednesday, spurred by a rally in energy shares, while Fed policy makers debated whether to raise the cost of borrowing. The S&P 500 increased 2.7 percent in the five days through Wednesday, its biggest rally leading up to a rate decision since August 2012.
Speculation has increased that the Fed would delay a hike as China ignited concern that its slowdown could weigh on global growth. Traders are pricing in a 30 percent chance of action on Thursday, down from 48 percent before China's currency devaluation last month, while 54 of 113 analysts surveyed by Bloomberg predict some kind of increase. Odds of a move at the December meeting are about 64 percent.
Equities have been particularly volatile amid concerns about China and the Fed's intentions. The S&P 500 has alternated between gains and losses for the past nine weeks, a streak of indecision that's happened only three times in 20 years, according to data compiled by Bloomberg.
The cost of hedging against stock losses is now double what it was before the last Fed meeting in July, and more than twice the price when the central bank began pulling back on its stimulus program in December 2013.
While the Chicago Board Options Exchange Volatility Index has slipped 47 percent from its high last month, it was still 38 percent above its annual average. The measure of market turbulence known as the VIX added 2.1 percent Thursday.

Even amid the stock swings, the S&P 500 has rebounded 7 percent since a low last month. The gauge is down 2.9 percent this year, and 6.2 percent below its record set in May.
"The market has been acting more positively recently, but it's hard to say
whether that's a result of pushing out expectations for a hike or people getting more comfortable with a dovish hike that's not that big of a deal," Stephen Freedman, senior investment strategist in New York at UBS
Group AG's UBS Wealth Management Americas unit, said by phone.
Data today showed new-home construction in the U.S. fell in August, indicating the real-estate recovery will take time to evolve. A separate report showed initial jobless claims in the U.S. declined last week to the lowest level in two months, highlighting a resilient labor market.
Seven out of 10 major groups in the S&P 500 advanced, led by gains in utilities, consumer-discretionary and health-care shares.
Cablevision Systems Corp. soared 15 percent to the highest level since 2001 after Altice NV agreed to buy the cable TV and Internet service provider in a $17.7 billion deal.
Airlines rallied after Barclays Capital Inc. said the latest leg lower for oil is a "positive ongoing catalyst" for the industry. United Continental Holdings Inc. jumped 6.3 percent, American Airlines Group Inc. gained 2.4 percent and Spirit Airlines Inc. rose 5.5 percent, the most since February.
Oracle Corp. declined 3.2 percent after reporting first-quarter revenue that fell short of analysts' projections. Verizon Communications Inc. slid 2.5 percent after it said 2016 earnings could plateau at 2015 levels as the company deals with business model changes and a sale of some wireline assets.
Rite Aid Corp. lost 10 percent after the drugstore chain cut its forecast for profit and revenue on expectations for slower growth in stores that have been open at least a year.
Peabody Energy Corp. tumbled 9.8 percent as shareholders authorized a reverse stock split designed to keep the company listed on the New York Stock Exchange.