Taxing Times for Yahoo! and Its Alibaba Shares
Ominous rumblings from the IRS about a spinoff leave the company groping for a path forward.
By , , and
It might be the most expensive "no comment" in history. In February, Yahoo! asked the Internal Revenue Service to give advance approval for one part of its plan to create a new company to hold its $25 billion stake in Alibaba Group Holding. The spinoff was aimed at saving the estimated $9 billion in taxes Yahoo would owe if it sold the shares. In a Sept. 8 regulatory filing, however, Yahoo said the IRS had been noncommittal: The agency, it said, "was not ruling adversely on the request," but it didn't give its blessing.
"Clearly, it's not the outcome that people were looking for," says Colin Gillis, an analyst with BGC Financial. The IRS did nothing to allay investor concerns when a week later it outlined new misgivings about tax-free spinoffs. Since May, when the IRS raised concerns about such transactions, Yahoo stock has fallen about 30 percent, while Alibaba shares are down 23 percent.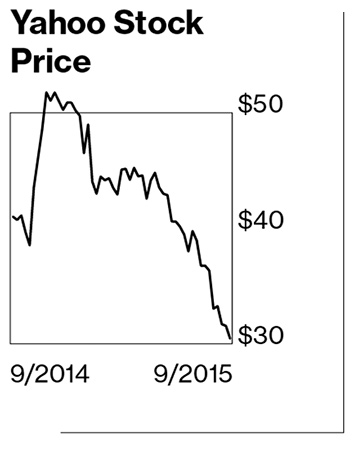 Now, Yahoo Chief Executive Officer Marissa Mayer has to decide whether to proceed with the deal, which investors have been demanding. It's most likely she will, according to a person familiar with company deliberations who asked not to be named. In the Sept. 8 filing, Yahoo said the IRS decision wouldn't prevent its law firm, Skadden Arps, Slate, Meagher & Flom from rendering an opinion that the deal would "satisfy all the requirements for tax-free treatment." Yahoo and the IRS declined to comment. "There's a strong likelihood" that the spinoff will happen, says Scott Levine, a tax partner at the law firm Jones Day.
Yahoo is also looking at alternatives. One might be spinning off its core Web portal business rather than the Alibaba shares. That business, which includes search and display advertising, might be valued at about $5 billion, according to Shyam Patil, an analyst with Susquehanna Financial Group, so a spinoff would result in a tax hit of roughly $1.75 billion, assuming a rate of 35 percent.
The company also could simply sell its Alibaba shares and take the tax hit. Potential buyers: Alibaba itself or SoftBank Group, which owns a stake in the Chinese e-commerce company, says Brian Wieser, an analyst with Pivotal Research Group. Speaking hypothetically, Wieser says Yahoo could sell its core operations. Among companies that might be interested in the business are Twitter, which also depends on advertising revenue, and Verizon Communications' new AOL unit, a longtime Yahoo rival. There's no indication from Yahoo that it's considering such a deal.
Yahoo unveiled the plan to spin off its 384 million Alibaba shares in January, after activist hedge fund Starboard Value and other investors pushed management to unlock the value in its Asian holdings without incurring a huge tax bill. The following month, Yahoo asked the IRS to issue an opinion on the spinoff, which would include the company's small-business unit, to fulfill the IRS's requirement that a spinoff has to include an operating business to qualify as tax-free.
The move seemed to be on track until May, when an IRS official raised questions about spinoff rules. The agency indicated it had concerns about transactions in which a small operating business is being bundled with large appreciated assets for the purposes of a spinoff, a situation similar to the Yahoo proposal.
On Sept. 14 the IRS issued more guidance, indicating it had misgivings about spinoffs consisting mostly of investment assets with small active businesses attached. Essentially, without mentioning Yahoo, the agency said it wouldn't bless in advance any deals that look like Yahoo's. It announced it was considering tougher and clearer rules to prevent other companies from starting similar transactions to avoid taxes on investment gains.
The omens aren't completely bad for an Alibaba spinoff. While the IRS could eventually kill the type of transaction Yahoo asked about, any rule changes are still in the future, says Levine. In its Sept. 14 guidance, the IRS didn't include language it's used in the past—including in a 2014 warning against corporate inversions—that any new rules would be retroactive. That means Yahoo might be smart to move quickly on the transaction before the IRS has a chance to finish its changes.
If the spinoff took place this year, Yahoo could report it as a tax-free transaction on its 2015 tax return, which it would likely file by September 2016. The IRS would have up to three years to inaugurate an audit. Big companies are typically audited annually, though each review can take years.
If a subsequent audit led to a claim for additional taxes, Yahoo could go through the internal IRS appeals process. If it were still found to owe money, it could file suit in tax court. That would likely lead to years of preliminary hearings, trials, and appeals. For example, a case dating to 2004 involving deals among Microsoft's overseas units hasn't even gone to tax court yet. A tax court ruling this year in a case involving chipmaker Altera affected the company's fiscal years back to 2004.
Levine doesn't see things going that far. If the spinoff proceeds and the IRS claims it owes taxes, Yahoo would probably be able to settle on favorable terms. Armed with a positive opinion from Skadden Arps, it would have a strong case, and the IRS wouldn't want to risk an adverse judgment that could set a precedent for other companies. Yahoo would have only "a 5 to 15 percent risk of losing," he says. "And that's the range of risk that the IRS doesn't like to touch."
Either way, the Alibaba stake is likely to create a climate of uncertainty for Yahoo and its shareholders for years to come. "The reality is, the management team can only do so much regarding tax policy," says Ben Schachter, an analyst at Macquarie Securities. Investors are likely to get some kind of update on what the company plans to do in October, when Yahoo typically announces third-quarter results.
—With Patrick G. Lee
The bottom line: Yahoo may have to take on the IRS to avoid a $9 billion tax bill for spinning off its 384 million Alibaba shares.