Porsche, Bentley Break With Taboos in Battle Over Slowing Growth
by
Slowing growth, technology demands force break with the past

Chancellor Merkel says `a profound revolution is underway'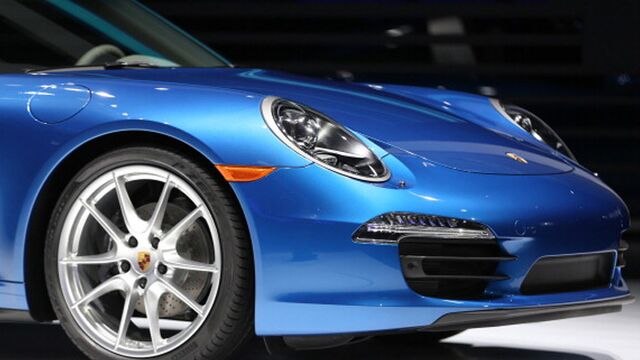 Whether with ultra-luxury sport utility vehicles or electric sports cars, automakers are increasingly stretching beyond their traditional niches to weather the pressures of slowing growth.
At the Frankfurt International Motor Show this week, the world's carmakers pulled off a dizzying number of firsts, including Jaguar sending its new F-Pace crossover spinning through a giant loop and Porsche unveiling an all-electric sports car that features holographic apps that can be grabbed out of the air.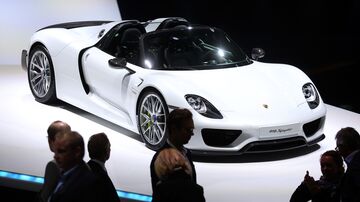 Beneath the glitz is an industry straining to meet increasing demands for new technology, including cleaner engines and self-driving features, which could add more than $10 billion in research and development spending by 2021, according to AlixPartners. Those extra outlays come with growth in global car sales set to slow to 2.6 percent on average over the next five years from 3.1 percent between 2007 and 2014, according to a study by the consulting firm. Those pressures are prompting carmakers to cast taboos aside.
"A profound revolution is underway that represents a fundamental evolution in using cars," German Chancellor Angela Merkel said Thursday when the Frankfurt show opened to the public. "That's been made clear here."
'Smartphones on Wheels'
General Motors Co. Chief Executive Officer Mary Barra echoed those sentiments in Frankfurt, saying an unprecedented rate of change will sweep through the industry in the coming years. Volkswagen AG CEO Martin Winterkorn went so far as to say the world's second-largest automaker is reinventing itself as a manufacturer of "smartphones on wheels," a departure for a company long associated with vehicles for the masses. 
"The usual boundaries for brands don't really apply any more," said Juergen Pieper, a Frankfurt-based analyst at Bankhaus Metzler.
Bentley illustrated the trend with its new $229,000 Bentayga. The refined offroader made its debut at the show, joining an increasingly crowded slate of exclusive crossovers which will soon include models from Maserati, Lamborghini and Rolls-Royce. The Bentayga is not only the British ultra-luxury brand's first SUV, but will also be the Volkswagen unit's first diesel and plug-in hybrid when those variants hit showrooms.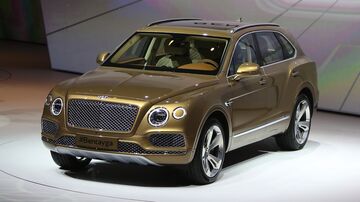 Adapting to trends such as the rise of SUVs is critical, even if it means a break with the past, said Bentley sales chief Kevin Rose. "You ignore that at your peril."
'Coherent' Ferrari
Porsche, which had pioneered brand-stretching expansion with the Cayenne SUV in 2002, is continuing to adapt. The maker of the 911 sports car will offer more driver-assistance functions in the coming years, a departure for a company whose image is tied to autobahn thrills.
"We will do it in a sophisticated way," said Matthias Mueller, Porsche's chief. More of the new technology will come in the Volkswagen unit's SUVs and Panamera sedan than in Porsche's pure-bred sports cars, whose customers find that "the most important connectivity is the connection to the road."
Still, not every manufacturer is pushing its boundaries. Ferrari CEO Amedeo Felisa said the supercar maker, which will be independent after its spinoff from Fiat Chrysler Automobiles NV early next year, will stick to its traditional loud, racy sports cars. SUVs and electric vehicles are both ruled out.
"We've been refining our concept of building two-door sports cars for 60 years," he said. "One of Ferrari's strengths is to have always worked in a coherent way in a well defined segment."
(For more Frankfurt show news, see SHOW.)
Before it's here, it's on the Bloomberg Terminal.
LEARN MORE