It's Party On in Credit Markets as Fed Stays at Zero for Longer
By , , and
Record pace of debt offerings seen continuing by investors

BlackRock says borrowing costs still historically attractive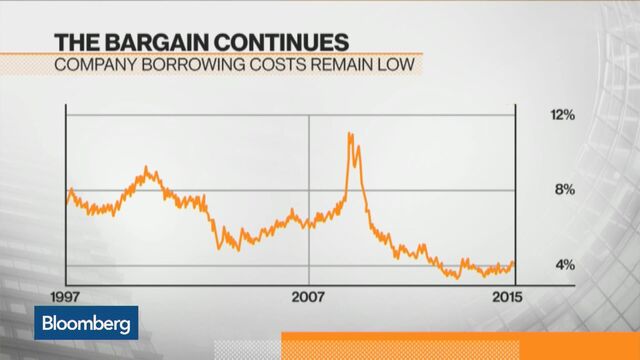 The $11.8 trillion U.S. corporate borrowing binge will carry on.
With the Federal Reserve leaving interest rates near zero for an 82nd month, underwriters, fund managers and credit strategists are all preparing for companies to resume their unprecedented pace of debt offerings. Corporate issuers from Apple Inc. and AT&T Inc. to junk-rated Dollar Tree Inc. and PetSmart Inc. have raised $1.51 trillion in U.S. bond and loan markets this year after selling an average $1.7 trillion each year since 2008.
Issuers "have an opportunity here to take advantage of lower rates," said Craig Bishop, the Minneapolis-based strategist for RBC Wealth Management's fixed-income strategies group, which he said is looking to add to its credit holdings.

The Fed's interest-rate policy, along with a stimulus program that pumped unprecedented amounts of cash into the financial system, kept bond yields so low for so long that companies have been borrowing for just about everything: funding acquisitions, buying back shares, refinancing higher-cost debt and avoiding the need to tap overseas cash that would be subject to repatriation taxes.
"These are still historically attractive levels for companies to borrow at," said Rick Rieder, chief investment officer for fixed income at BlackRock Inc., the world's largest money manager.
Even before the Fed announcement, billionaire Patrick Drahi's Altice NV agreed to buy Cablevision Systems Corp. in a deal that would be financed with $14.5 billion of new and existing debt. That would push the company's debt load to about eight times the cable provider's earnings, according to credit-research firm KDP Investment Advisors Inc.
The scope of borrowing has stoked concern that companies have become overleveraged. Junk-rated oil and gas producers and miners that levered up to fund operations are now struggling to refinance amid a commodities slump. That pushed average yields on all U.S. corporates to the highest in two years this month.

But the extra yield and a Fed that's on hold for longer are giving debt investors reason to come back for more. In fact, few were expecting the borrowing to be disrupted even if the Fed had moved to increase its benchmark rate, which it has had anchored at zero since December 2008.
"This is not going to be a big deal," said Tom Voorhees, a corporate-bond trader at Brean Capital LLC in New York. "It's long overdue. You've had artificial rates for a long time. The hard part has been just the waiting."
Even when interest rates do start to rise, the low yields have provided plenty of cushion for most companies to absorb the extra costs, said Citigroup Inc. credit strategist Stephen Antczak. The typical yield demanded by investors to buy investment-grade corporate obligations is still well below the average coupon companies are paying on the debt they've issued, he said. That buys higher-rated companies time before it will start affecting their borrowing costs, he said.

"It's a challenge the market will have to deal with when borrowing costs start to go up a couple of years down the road," he said.
Vincent Murray, the head of U.S. fixed-income syndicate at Mizuho Securities USA in New York, said he's expecting to come in Monday to a robust calendar of bond deals.
"We have a backlog of investment-grade" deals, he said. "And I think investors are ready to buy new issues when they come."