GM to Pay $900 Million to End U.S. Switch-Defect Probe
By and
Automaker reaches deferred prosecution deal with U.S.

Agreement may ease questions of what Barra, executives knew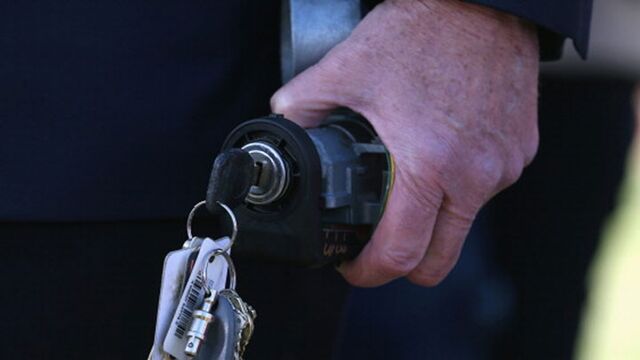 General Motors Co. will pay $900 million to settle a criminal probe by the U.S. Justice Department over the ignition switch flaw that has bogged down Chief Executive Officer Mary Barra in recalls and investigations since almost the start of her tenure.
The settlement is part of a deferred-prosecution agreement under which the U.S. will monitor some of the automaker's safety policies and the company must cooperate with the government, federal prosecutors in New York said Thursday. GM was charged with conspiracy and wire fraud, claims that will be dismissed in three years if GM complies with the accord.
"The worst part of this tragedy is that it was entirely avoidable," Christy Romero, the special inspector general for the Troubled Asset Relief Program, said at a press conference. GM, which received $49.5 billion in a 2009 government bailout, "could have significantly reduced the risk of this deadly defect by improving the key design for less than one dollar per vehicle."
The Detroit-based company announced that it will resolve some civil cases arising from the recall and a shareholder lawsuit in Michigan, and record a third-quarter charge of $575 million related to those settlements. GM still faces other suits in which customers and injury victims are seeking billions of dollars.
"The mistakes that led to the ignition switch recall should never have happened. We have apologized and we do so again today," Barra said in a statement. "We have faced our issues with a clear determination to do the right thing."
Lost Value
Barra, 53, became GM's first female CEO in January 2014. A few weeks later, the switch recalls began and soon became her biggest concern. She was questioned by Congress and mocked on the comedy show Saturday Night Live. GM stock has lost 22 percent of its value since she took the top job. Meanwhile, Ford Motor Co.'s stock declined half as much and the Standard & Poor's 500 Index rose 8.5 percent.
The criminal settlement may end almost two years of questions about what GM's executives knew and whether they would be held personally responsible. Lawyers for vehicle owners and injured motorists have speculated whether Barra and others were kept in the dark by mid-level managers or whether they knew of the defect well in advance.
GM, the largest U.S. automaker, recalled 2.59 million small cars to replace a faulty ignition switch, which has been linked to at least 124 deaths. The switch could be jarred into the "accessory" position, shutting off the engine, disabling power steering and brakes and preventing air bags from deploying. GM engineers and lawyers knew about the defect for years before the recall, according to a 2014 study commissioned by the company. Fifteen GM employees were dismissed after the report.
Barra said as recently as June that GM was cooperating with the Justice Department investigation of its handling of the switch defect. Manhattan U.S. Attorney Preet Bharara and the Federal Bureau of Investigation in New York were among those probing the automaker.
Probe Continues
No individuals were charged, though Bharara said at the press conference that the investigation is continuing and it's possible the U.S. may eventually file cases against some. Prosecutors dated the scheme to at least April 2006.
"There are gaps in the law," he added, alluding to what some see as a need for new legislation. "It's not a criminal violation to put into the stream of commerce an auto that might harm people."
Bharara previously led a probe into Toyota Motor Corp.'s attempt to hide safety defects over uncontrolled acceleration, reaching a deal under which the Japanese automaker agreed to pay $1.2 billion to avoid prosecution -- the biggest U.S. criminal penalty for a car company.
Under that deferred prosecution agreement, approved by a federal judge last year, the government agreed not to prosecute Toyota for three years as long as it continued to cooperate with authorities.
GM could still face prosecution if the U.S. determines the automaker violated the deal, which U.S. District Judge Alison Nathan approved. She said at a hearing that the facts of the case are "heartbreaking" and there's no doubt about "the criminality" of the company's actions.
Driver Claims
GM still faces claims by drivers and passengers hurt in crashes and the families of those killed. The automaker has also been sued by car owners over the decreased value of vehicles because of the recalls. And some people have seen convictions overturned as accidents and deaths blamed on the driver have been exposed as being the result of the faulty switch.
On Thursday, GM and the lead lawyer for accident victims said the company had reached a tentative agreement with 1,385 plaintiffs who "may be eligible to participate in a settlement." Both the company and victims sent a letter to U.S. District Judge Jesse Furman in Manhattan proposing the accord, attorney Bob Hilliard said in an e-mailed statement. He added that 370 injury cases and 84 wrongful death claims remain.
Compensation Fund
Barra announced a compensation fund in June 2014 after GM came under fire from lawmakers for taking more than a decade to recall cars with defective switches.
Worth as much as $625 million, the fund administered by attorney Ken Feinberg gave victims and their families a route to seek compensation largely unavailable to them in the courts.
Under bankruptcy law, GM shed most liability related to the defect before it sought court protection in 2009. Claimants have sought to revisit that rule and have been generally unsuccessful. Some lawsuits blaming the switch defect for accidents are scheduled for trial in Manhattan federal court in January.
Since emerging from bankruptcy in 2009, GM has announced $17.8 billion in spending on its U.S. factories, creating 6,250 jobs, it said in August.
GM's second-quarter profit surged, with its adjusting earnings of $1.29 a share beating the average estimate of $1.06 and more than doubling from a year earlier.
GM rose 11 cents to $31.31 in New York trading Thursday.