European Stocks Increasingly Seen as Safe Haven as Fed Decision Looms
By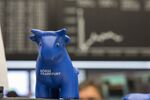 European equities, shunned by foreign investors during most of the region's debt crisis, are now increasingly seen as a "safe haven" for investors seeking a shelter from the slowdown in emerging markets and ahead of Federal Reserve's interest rate decision.

Investors' appetite for European stocks is fueled by the region's slow but steady economic recovery, by better earnings growth as well as by the prospect of an expansion of the European Central Bank's quantitative easing program, market strategists say.
"Things in Europe are better than a lot of people had feared,'' Societe Generale Head of Global Asset Allocation Strategy Alain Bokobza says. "It's a bit like 'climbing a wall of worry makes a bull market'.''
Europe is already outpacing the U.S. in earnings growth: profits for companies listed on the Europe's benchmark Stoxx 600 are expected to rise by 5.1 percent this year, and by 12 percent for the euro-zone's 50 biggest companies, while earnings are seen up a meager 0.2 percent for S&P 500 companies in 2015, data compiled by Bloomberg shows.
A recovery in European earnings alone will be enough to drive performance in the region's stocks in the coming months, Goldman Sachs strategists write in note published on Sept. 11.
According to Goldman, European stocks tend to outperform U.S. stocks when the Fed starts to raise rates.
The change in investor sentiment toward European stocks is also visible in two major surveys published this week by Barclays and Bank of America-Merrill Lynch.
According to Barclays's survey of 716 investors, most equity investors expect Europe to outperform and emerging markets, including China, to underperform in the next three months.
BofA's latest fund manager survey shows Europe remains the most favored region globally, and the most attractive region to 'overweight' on a 12-month view.
Data from investment flows also shows that European stocks are back in vogue: so far this year, the region's stocks have attracted $91 billion, while U.S. stocks and emerging market stocks have suffered outflows of $140 billion and $58 billion respectively, according to data from EPFR Global cited by BofA.
"We see European equities as offering relative safe-haven status in an uncertain global growth environment,'' HSBC equity strategists Robert Parkes and Peter Sullivan wrote in a note published on Sept. 14.
European stocks' revival is already visible in prices: following the recent market rout, European indexes are among the very few stock markets world-wide that are still up on the year: Italy's FTSE MIB index is up 16 percent, France's CAC 40 is up 8.9 percent, Europe's broad Stoxx 600 index is up 5.7 percent, contrasting with Wall Street's S&P 500 index, which is down 3.1 percent year-to-date, and the MSCI Emerging Markets index, down 13 percent.