House Republicans Stuck in Fight on Funding for U.S. Government
Billy House and Terrence Dopp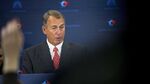 Two weeks before funding is set to expire, House Republicans remain mired in an intra-party spat over Planned Parenthood as Speaker John Boehner reported no progress on a plan to keep the U.S. government open.
"We had a good conversation yesterday about the CR and we're going to continue those conversations," Boehner told reporters Thursday, using a shorthand term for a stopgap spending bill. "There are a lot of steps to get us closer to our goal," he said after a second private meeting in two days with fellow Republicans.
Members leaving Thursday's meeting said no firm measures were presented to keep government funded past Sept. 30.
House Appropriations Chairman Hal Rogers has said he has a bill ready to keep government financed. He said appropriators are waiting on "how long" a short-term bill would run and "what riders and anomalies the leadership wants." Some conservatives are demanding to strip funds from Planned Parenthood, the women's reproductive health service.
Rogers said Thursday that an extension of federal aviation programs, which expire Sept. 30, will be attached to the short-term measure.
President Barack Obama and other Democrats have warned that adding language on defunding Planned Parenthood would be a poison pill, and that Obama would veto any measure containing such language. At the same time, conservative Republicans say they won't support a bill without it.
90-Minute Meeting
Obama summoned House Democratic leader Nancy Pelosi and the top Senate Democrat, Harry Reid, for a 90-minute meeting on strategy Thursday. Reid said they all support a short-term continuation of government spending without any extraneous items, such as cutting Planned Parenthood funds.
"This is a serious time for our country," said Reid of Nevada. "It is very, very important that the American people understand we're not going to have another 17-day shutdown or any shutdown."
Pelosi said Democrats are prepared to negotiate with Republicans on the budget. Lawmakers, she said, need to take care of critical unfinished business, including funding transportation projects and reauthorizing the Export-Import Bank.
Second-ranking Senate Republican John Cornyn of Texas held out the prospect that his chamber will move first on a stopgap bill to keep the federal government open when the new fiscal year starts Oct. 1.
'Meet the Deadline'
"I wouldn't take anything off the table. We're just going to have to meet the deadline," Cornyn told reporters. "I don't think we know right now what the order is going to be."
Cornyn said he expects a vote to defund Planned Parenthood as part of the debate over a spending bill, though he didn't say whether the two issues would be combined in the same bill. A Senate measure to defund the organization didn't receive the 60 votes needed to advance in a test vote in August.
Conservative outrage against Planned Parenthood stems from undercover videos that purported to show officials for the organization discussing reimbursement for providing tissue from aborted fetuses to researchers. The organization has said it doesn't sell fetal tissue for profit, and instead receives the cost of collecting and delivering it.
Alternative Ideas
Leaving the closed-door Republican meeting Thursday, members said they discussed alternatives such as transferring Medicaid funds from Planned Parenthood to other women's health programs, or trying to defund the organization later through a procedure called reconciliation. Boehner didn't commit to either path, they said.
Congressional leaders are trying to avoid a repeat of the 16-day partial government shutdown in October 2013 triggered by conservatives' efforts to defund Obamacare. Boehner wants to prevent Republicans from being blamed, as they were two years ago, and also to avoid a fight that could threaten his position.
Boehner told reporters Thursday after the meeting that he is "very" confident he would survive any effort to take away his speaker's gavel.
Representative Patrick McHenry of North Carolina said, "People have written John Boehner's political obituary time and time again. John Boehner is the ultimate survivor in the House of Representatives."
Senate Majority Leader Mitch McConnell warned Wednesday that the conservatives' strategy to defund Planned Parenthood won't work, pointing to Obama's veto threat.
'Exercises of Futility'
"I'm not in favor of exercises of futility," McConnell, a Kentucky Republican, told reporters. "We need to deal with the world that we have." In addition, he said, the vast majority of federal funding for Planned Parenthood comes through Medicaid, not congressional appropriations.
But Representative Matt Salmon of Arizona said Thursday that Republicans need to call Obama's bluff, and that it's time to force the president "to put up or shut up" with a veto at the risk of a government shutdown.
The potential for a partial government shutdown comes after Republicans took control of the Senate in January, in addition to their majority in the House, while promising to end the era of spending standoffs.
"We're not going to shut the government down," McConnell said Wednesday. Just in case, though, he teed up legislation this week to ensure that federal workers would be paid in the event of a shutdown.
Video Investigation
Boehner has emphasized to members that the House is already taking action on two abortion-related bills, including one that would place a one-year moratorium on funding for Planned Parenthood pending a House investigation into the videos. The House plans to vote on those measures Friday.
Bloomberg Philanthropies provides financial support for Planned Parenthood.
Next week, the House plans to be in session only on Thursday, Sept. 24, and Friday, Sept. 25. Pope Francis will speak to a joint meeting of Congress on Sept. 24.
House Republican leaders don't expect to send a plan to the Senate until the week of Sept. 28, said Representative Dennis Ross of Florida, a member of the leaders' vote-counting team. Even so, the leaders were preparing procedurally for the option of taking action on a bill at the end of next week.
Ross said he and other members of the whip team plan in the coming days to continue "taking the temperature" of what rank-and-file Republicans want to do.
Representative Roger Williams of Texas, one of more than three-dozen conservatives who signed a letter saying they wouldn't vote for any spending bill that continues to fund Planned Parenthood, suggested he might consider alternatives.
May Back
Williams said after Thursday's meeting that if Boehner came up with an alternative plan to achieve that goal, he would "take a look at it" and even possibly back a short-term spending measure.
A Boehner loyalist, Representative Mike Simpson of Idaho, said conservatives threatening to hold up a stopgap bill aren't going to vote for anything Boehner comes up with, "so we should not be trying to placate them."
"Sometimes you have to face reality," said Simpson. He said that is the case now, even if the speaker might have to turn to Democrats for vote help to pass a spending measure and keep government open.
Boehner relied on Democratic votes to resolve the shutdown in 2013. House conservatives' frustration with Boehner has been festering since then.