Afghan Immigrants Want OT for Training Marines
California regulators order a contractor to give them back pay.
By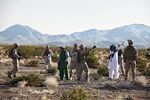 At the U.S. Marine Corps Air Ground Combat Center in Twentynine Palms, Calif., halfway between Los Angeles and Las Vegas, military trainers spent years hiring Afghan and Iraqi immigrants to teach U.S. troops how to interact with locals while deployed in Afghanistan and Iraq. The workers were paid by the hour—$17 in 2013—to play farmers, village elders, and insurgents, spending as long as two weeks at a time living on base. They spent much of their time in mock villages built from steel shipping containers that could be hot during the day and freezing at night. Their military supervisors insisted they be available at all hours to participate in training exercises.
The program, originally known as Mojave Viper, wrapped up in 2014, but workers who took part are claiming the defense contractor that hired them, Tatitlek Support Services, owes them overtime pay and compensation for meal and rest breaks they say they should have been given under California labor laws. They recently found a sympathetic ear with the state's Labor Commissioner's Office, which has issued awards of as much as $200,000 each to 75 former role players since July. It's still considering more than 100 claims. Tatitlek, the state found, exercised control over the role players for the whole time they were on the Marine base and therefore should have paid them for all those hours. "The employees are subject to the state's labor laws," says Peter Melton, a spokesman for the California Department of Industrial Relations, which includes the Labor Commissioner's Office. "They were not relieved of all duty, their sleep time was not duty-free, and they could not leave the premises."
Tatitlek also faces two lawsuits on behalf of the role players and a separate federal lawsuit filed by about 60 former Tatitlek employees. "They should get paid what they're owed under California law," says Donald Pepperman, a lawyer representing former Tatitlek employees in one of the suits. "They're not slaves."
The company, a unit of Alaska-based Tatitlek, argues that defense contractors are exempt from state laws that interfere with their work. The plaintiffs and California "are seeking to enforce state wage and hour regulations that directly conflict with matters of national security and U.S. military operations, including their attempt to dictate and change when and how U.S. Marines are trained on U.S. military bases," Tatitlek said in requests to a federal judge to throw out the California awards. "It's absolutely ridiculous," says Jon Meer, a lawyer for Tatitlek. "The labor commissioner is acting as an advocate for the workers and telling them they're entitled to be paid 24 hours a day because they slept on the base."
As many as 1,200 role players worked at Twentynine Palms, deep in the Mojave Desert, from 2008 to early 2011, and as many as 600 worked there from late 2011 to spring 2014, according to one of the suits. They engaged with Marine trainees in mock cities and villages spread over 274 acres of desert that included fake markets, hotels, and other businesses, according to their federal complaint. Tatitlek received a $300 million contract to provide the U.S. Department of Defense with role players in 2008. Another of the company's units got an additional $10 million contract in 2013 to provide role players. A Marine Corps spokesman at the Pentagon didn't respond to requests for comment.
In 2011, Tatitlek settled a class-action suit brought by role players who worked at Twentynine Palms for $2.4 million. The claims in that case centered on whether the company, which didn't admit any wrongdoing as part of the settlement, had misclassified the workers as independent contractors. In 2008 it began paying them as hourly employees.
The company's problem is that California law is stricter than federal labor law. Meer says Tatitlek plans to argue at a November hearing that California has no right to enforce its laws on the "federal enclave" of a Marine installation. A finding in its favor would benefit the company in its effort to get the California awards dismissed. "Combat conditions do not always adhere to daily schedules and combat training may require personnel to be on call at odd hours," Tatitlek said in a filing. "Combat conditions also do not always break for regularly scheduled meal and rest periods."
The bottom line: A military contractor says it shouldn't have to pay back wages under state laws because bases are federal property.
Before it's here, it's on the Bloomberg Terminal.
LEARN MORE