Chile Begins Relief Efforts After Powerful Quake Kills Eight
By and
Tremors felt in Santiago; 15-foot waves hit northern city

Officials confirm 10 deaths with hundreds in shelters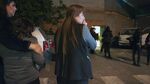 Chile began dispatching emergency crews and assessing damage left by the biggest earthquake in the world this year that claimed 10 lives and forced more than a million people to evacuate coastal areas.
After a tsunami alert was lifted early Thursday, residents of towns in the region of Coquimbo began returning to their homes, many of which had crumbled in the 8.3-magnitude earthquake. Tsunamis caused severe damage to the region's main port, Interior Minister Jorge Burgos said.
The disaster brought back memories of an even-stronger 2010 quake that trigged a tsunami that killed hundreds. Copper prices rose as some mines halted as a precaution, though they reported no significant damage and planned to resume operations. Chile is the biggest copper producer. Cement producer shares rallied on speculation reconstruction will boost demand.
"Once again we've been forced to face a tough blow from nature," President Michelle Bachelet said in televised remarks. "Today our main focus is on supporting and helping people."
On Thursday, Bachelet embarked on a tour of the hardest hit areas near the cities of Illapel and Coquimbo. The government declared disaster areas in four cities in the province of Choapa after the tremor, which swayed buildings more than 100 miles away in Chile's capital Santiago.
Bachelet faced criticism in 2010 for failing to issue an evacuation warning for low-lying areas in the immediate aftermath of the earthquake. At the time, many blamed the government's inaction for hundreds of deaths throughout Chile's coast.
"The response has been good, timely and agile and the citizenship has collaborated very efficiently," Bachelet said Thursday.
Aftershocks
More than a dozen strong aftershocks were felt, with some shaking neighboring countries, as the first waves hit cities along Chile's central and northern coast. Peru issued a tsunami warning and lifted it an hour later.
Chile is one of the most earthquake-prone nations in the world. It was hit by an 8.8-magnitude quake in February 2010 and in 1960 suffered the largest recorded quake, according to the U.S. Geological Survey. The quake Wednesday was the sixth-strongest in Chile and the world's strongest this year, Undersecretary of the Interior Mahmud Aleuy told a news conference.
Copper for delivery in three months gained 0.5 percent to $5,408 a metric ton ($2.45 a pound) at 3:05 p.m. on the London Metal Exchange. Prices climbed as much as 1.1 percent after news of the earthquake to $5,440.50, the highest since July 22.
While miners including state-run Codelco, Anglo American Plc and Antofagasta Plc reported that workers weren't injured and infrastructure appeared not to have been damaged, at least two operations halted work for inspections.
Escondida, the world's largest copper mine, suffered no disruptions, according to its operator, BHP Billiton Ltd.
Death Toll
The official death toll rose to 10, Burgos told reporters Thursday. More than 600 people sought shelter in public facilities.
With the country's main highway reopened, authorities dispatched food and other emergency supplies as well as additional police officers and firefighting crews. About 100,000 families were still without power on Thursday, Bachelet said on Thursday.
All hospitals and airports are operating normally, while dams are in good condition, the president said, adding that it's too early to estimate damage costs. U.S. State Department spokesman John Kirby wrote on Twitter that the U.S. was ready to assist Chile if needed.
Cement producer shares advanced in Santiago. Trading in Melon SA, controlled by Peru's Brescia group, was suspended after jumping 40 percent to 0.42 pesos. Cementos Bio Bio SA gained 5 percent and Cemento Polpaico SA, controlled by LafargeHolcim Ltd, rose 2.9 percent. The benchmark IPSA index gained 0.1 percent.
The quake's epicenter was 142 miles north-northwest of Santiago at a depth of about 16 miles. State television station TVN showed images of cars overturned and homes destroyed by the sea surge.
Waves reached as high as 15 feet near damaged Coquimbo's port, which last year handled 770,000 metric tons of products, mostly copper concentrates from mines including Teck Resources Ltd's Carmen de Andacollo as well as fruit, cement and iron ore, according to the port operator's website.