Joe Biden Decries Donald Trump's 'Sick Message' on Hispanic Immigrants
"Folks, this will not prevail," says the vice president, who is mulling a campaign of his own.
By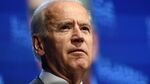 Vice President Joe Biden took aim at Republican presidential front-runner Donald Trump on Tuesday, blasting the real estate mogul for "absolutely denigrating an entire group of people."
Biden told approximately 75 guests at a Hispanic heritage event at his residence at the Naval Observatory, among them former Boston Red Sox pitcher Pedro Martinez, that Trump was "appealing to the baser side of human nature." He said Trump embodied a "xenophobia" not seen since the mid-nineteenth century.
Trump has drawn the ire of many Latinos for his remarks on immigration, including his repeated assertion that Mexicans illegally crossing the border are "rapists." He's called for the construction of a border wall financed by Mexico and said he would deport all immigrants in the country illegally.
"I walked out of the house just as Trump was talking on the television," Biden said. "Folks, this will not prevail. This will not prevail."
Biden told attendees not to be discouraged by Trump's "sick message," urging them to take solace in the reception that Pope Francis will receive when he visits the United States next week.
Biden hailed the Pope as "the most popular man in the world" and said Francis had legions of fans across all religions because of his belief in the golden rule. The vice president said the "vast majority" agreed with that sentiment.
"I don't want anybody to be down about what's going on right now in the Republican Party," Biden said.
Biden's harsh critique of Trump comes as the vice president is weighing whether to enter the Democratic presidential field. On Wednesday, the vice president will travel to Los Angeles for a pair of events on the environment. Later in the week, he'll discuss campus sexual assault at Ohio State University and the auto industry in Detroit.
Each event represents a likely tentpole of a Democratic presidential platform, and offers Biden a chance to engage with voters before he makes a decision. During an interview with late-night host Stephen Colbert last week, Biden said he still was not sure if he had the emotional capacity to run after the death earlier this year of his son Beau.
"I don't think any man or woman should run for president unless, number one, they know exactly why they would want to be president and, number two, they can look at folks out there and say, 'I promise you, you have my whole heart, my whole soul, my energy, and my passion to do this,'" Biden told Colbert. "And I'd be lying if I said that I knew I was there."
At least one attendee at Tuesday night's event was hoping the vice president would decide to jump in the race, shouting "Run, Joe, Run!" at the end of the remarks.
The vice president looked to quickly defuse the situation with a wave.
"Oh, no, no," Biden said, smiling.