markets
Japan Rating Cut by S&P as Abe Falls Short of Early Promise
By
S&P sees little chance of Japanese revival anytime soon

China, South Korea are now both rated higher than Japan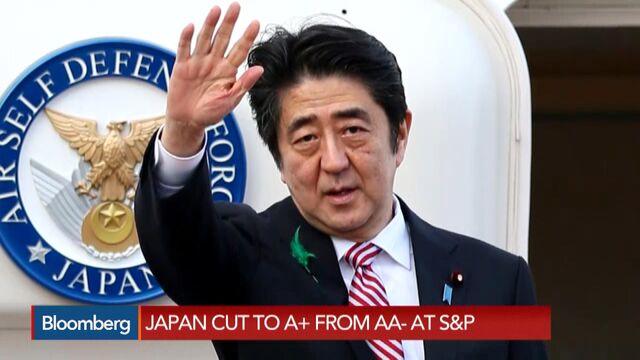 Standard & Poor's cut Japan's long-term credit rating one level to A+, saying it sees little chance of the Abe government's strategy turning around the poor outlook for economic growth and inflation over the next few years.
The move comes just a day after the Bank of Japan refrained from boosting record asset purchases, betting there will be a resumption in growth and inflation. That's left the onus on Prime Minister Shinzo Abe and his Cabinet to consider a fiscal stimulus package to boost what evidence indicates is a lackluster recovery in the second half of the year so far.
"We believe that the government's economic revival strategy -- dubbed "Abenomics" -- will not be able to reverse this deterioration in the next two to three years," S&P said in a statement. "Economic support for Japan's sovereign creditworthiness has continued to weaken."
Japan's problems are mounting, with inflation near zero, the economy contracting last quarter and debt rising as the population ages. The International Monetary Fund estimates public debt will increase to about 247 percent of gross domestic product next year.

The yen, which has dropped about 30 percent since Abe came to power in December 2012, slipped 0.1 percent to 120.57 per dollar at 8:48 p.m. in Tokyo.
Japan's sovereign debt yield and bond risk have stayed low as the Bank of Japan pushes on with its unprecedented asset purchases. The benchmark 10-year government bond yield was at 0.37 percent on Wednesday, after touching a record low of 0.195 percent in January.
Credit-default swaps insuring Japan's sovereign notes have dropped 30 basis points this year to 37 basis points, according to data provider CMA.
"The government's fiscal reform plan released in June lacked details and specifics, making it look unreliable on how to ensure fiscal sustainability," said Masaki Kuwahara, an economist at Nomura Securities Co. in Tokyo, who said the downgrade wasn't a surprise after a cut by Moody's Investors Service in December. "Today's downgrade is a message that the government will need to have a more credible fiscal reform plan."
Critical View
Toshihiro Uomoto, a credit strategist at Nomura, said the risk now is that overseas investors will take a more critical view of Abenomics.
"Japan is trying to escape from deflation, but it's not succeeding," he said. "The perception is that the Bank of Japan's policy isn't having as much of an impact as it was originally aiming for."
Japan is now rated lower than China and South Korea -- two of its key economic rivals -- by S&P. South Korea was lifted one level to AA- on Tuesday, with S&P citing the nation's sound fiscal position and relatively strong economic performance.
"Our ratings on Japan balance the country's strong external position, relatively prosperous and diversified economy, political stability, and stable financial system against a very weak fiscal position that the country's aging population and persistent deflation exacerbate," S&P said.
The outlook for the long-term rating is stable, it said.
— With assistance by Tesun Oh, and Pavel Alpeyev
(Updates with debt chart after fourth paragraph.)
Before it's here, it's on the Bloomberg Terminal.
LEARN MORE