Donald Trump Promises Larger U.S. Military in Speech Short on Specifics
The billionaire had promised to flesh out his ideas on defense during his speech aboard the USS Iowa.
By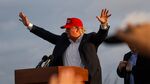 The red "Make America Great Again" baseball cap bobbed through the sea of people aboard the USS Iowa, many chanting "Do-nald Trump! Do-nald Trump!" as protesters waited in the parking lot with signs denouncing the Republican presidential candidate as a draft dodger.
Trump, a real-estate billionaire who did not serve in the military, accepted the endorsement of a veteran's group in Los Angeles on Tuesday while vowing to make the armed forces "so big and so strong and so great" that no enemy would dare challenge them.
Trump leads the Republican field despite, or perhaps because of, verbal attacks on political rivals including Arizona senator and former prisoner of war John McCain. He went on decry the treatment of America's veterans. "Right now we have illegal immigrants who are being treated—by far—better than our veterans," Trump said aboard the World War II-era battleship, flanked by representatives of Veterans for a Strong America. "That's not going to happen anymore."

His 15-minute speech covered now-familiar ground for Trump followers, including criticism of illegal immigration, a promise to improve America's standing in the world, and an appeal to the "silent majority" to retake power. He castigated Hillary Clinton as the worst secretary of state in history, but, in something of a change of pace, he did not mention any of the other Republicans in the race. He will debate 10 of them Wednesday evening elsewhere in Southern California.
"The silent majority is back," Trump told more than 1,000 spectators, who had paid at least $100 to attend the short-on-specifics speech. "I don't think we need to call it a silent majority anymore because they're not silent. They're disgusted."
After his speech, Trump, wearing his signature navy blue blazer, white shirt, and red baseball cap, shook hands and signed a copy of Rolling Stone magazine with him on the cover. As he stared out into the throng of protesters who lined in the parking lot below the deck of the Iowa, they chanted, "Dump Trump," while the mogul's supporters drowned them out with shouts of "USA! USA! USA" and "Do-nald Trump."

"Trump really speaks to what the silent majority wants to hear," said Adrian Asencio, 71, a retired firefighter from Redlands, California, who came to hear Trump.
Holding a sign reading "What did you do in the war?", protester Greg Wilson said Trump's veterans endorsement rings hollow.
"He's essentially a draft dodger," said Wilson, 70, who said he served in the Army in Germany during the Cold War. "To use the veterans the way he's using them, to me it's obscene."