Dalio Says Risk Parity Strategy Didn't Add to Market's Turmoil
By
All Weather approach tends to `smooth,' not exacerbate, moves

Bridgewater's $80 billion fund has slumped 4.8% year-to-date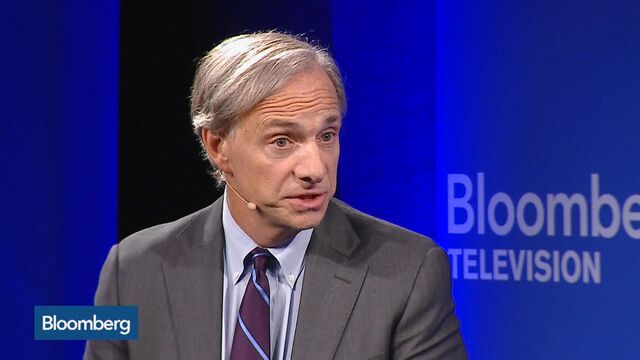 Ray Dalio, the money manager whose $80 billion All Weather fund pioneered risk-parity investing, is disputing the idea that the strategy contributed to increased volatility during last month's global market rout.
All Weather strives to keep its asset allocation steady by rebalancing, which tends "to smooth market movements rather than exacerbate them," Dalio and his co-chief investment officers, Robert Prince and Greg Jensen, wrote in a 17-page report sent to clients of Bridgewater Associates. The fund, which doesn't hedge, invests in a combination of stocks, bonds, currencies, commodities and securities tied to credit spreads and inflation.

Some analysts said risk-parity funds and algorithmic traders were partly to blame for the extreme swings that wiped out more than $5 trillion in global stock value in August after China's surprise currency devaluation. The amount of money invested in risk-parity funds in the U.S., about $400 billion, is modest, according to Westport, Connecticut-based Bridgewater.
"Relative to the size of global asset markets, the amount of money being managed and moved around through risk parity is a drop in the bucket," Dalio's team wrote.
Heavy Borrowing
Analysts at Bank of America Merrill Lynch said the biggest culprits in the August selloff were risk-parity funds that borrow heavily to make their bets and tie the amount of leverage they use to predictions of future portfolio volatility.
"Risk parity is not the risk, vol control is," a team of equity derivatives strategists led by Chintan Kotecha wrote in the bank's Sept. 1 report, referring to volatility.
Dalio's fund, unlike some others, doesn't alter the amount of leverage it employs based on short-term changes in market volatility, according to Bridgewater.
The firm's All Weather fund is down 4.8 percent this year, according to a person familiar with the matter, with most of that drop coming last month. The person asked for anonymity because the information is private.
Dalio started investing his family's money in the All Weather fund in 1996, and the billionaire opened it up to institutional clients in 2003. Bridgewater, founded in 1975, oversees about $169 billion.