Corbyn Changes Tone for Parliamentary Quizzing of Cameron
Thomas Penny and Robert Hutton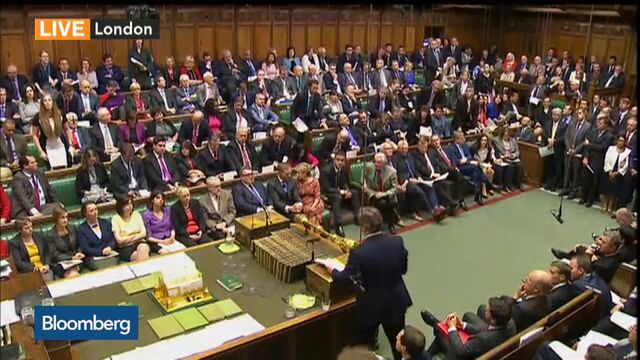 U.K. opposition Labour Party leader Jeremy Corbyn used his first Prime Minister's Question Time in the House of Commons to make the weekly session less confrontational.
Reading from a list of questions sent to him by voters after an appeal on the Internet, Corbyn asked about housing, mental health and changes to welfare. The cheering and shouting that usually accompanies the question-and-answer session was absent as David Cameron answered the questions.
Voters "told me that they thought PMQs was too theatrical, that Parliament was out of touch and too theatrical and they wanted things done differently," Corbyn said at the beginning of the exchange in London Wednesday. "I thought at my first PMQs I would do it in a slightly different way, so I sent out an e-mail to thousands of people and asked them what questions they would like to put to the prime minister and I received 40,000 replies."
Corbyn has had a difficult first four days as Labour leader and was under pressure to perform well at PMQs to reassure lawmakers alarmed at a lack of policy direction since his election was announced on Saturday. Labour's most socialist leader in a generation, Corbyn has seen critics warn his policies will gift the next election to Cameron's Conservatives.
Corbyn, greeted in silence by his party's lawmakers when he met then in private on Monday, received a brief cheer. The Tories, who aren't above cheering a Labour leader who they think is on course to lose, decided to stay quiet. There was no mention of the morning's big news story: criticism of Corbyn for failing to sing the national anthem at a commemorative event on Tuesday.
Marie, Claire
If the Labour leader's aim was to wrong-foot the prime minister, it failed. As Corbyn read out questions from Marie, who wanted to know about high rents, Stephen, who works for a housing association, and Claire, who was concerned about cuts to tax credits, the exchange came to resemble one of the many local radio phone-ins that Cameron does each month.
The questions set by Corbyn for the prime minister were straightforward: Why wouldn't he spend more on a range of worthy causes? Cameron's answers were equally so: "The country has to live within its means."
The prime minister didn't even open the huge folder of answers he brings to these sessions; he knows this stuff by heart. This was the debate he had, successfully, in the last election against Corbyn's predecessor, Ed Miliband.
Corbyn had some attack lines. "A family that chooses not to go to work shouldn't be better off than one that chooses to work," Cameron said, to cheers from his own side. "Many people don't have that choice," Corbyn replied.