Burkina Faso Army Unit Detains President Weeks Before Vote
By and
Elite presidential guard also holding prime minister

Elections scheduled for 0ct. 11 to replace interim leaders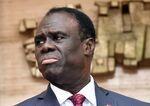 Soldiers detained Burkina Faso's interim president and prime minister, raising concern about a military coup four weeks before elections to return the West African nation to democracy following mass protests last year that forced Blaise Compaore to quit after 27 years in power.
The soldiers who detained interim leader Michel Kafando, premier Isaac Zida and two ministers on Wednesday were members of Compaore's former presidential guard, Cherif Sy, the head of the country's transitional council, said in a statement handed to reporters in the capital, Ouagadougou. A youth movement known as Balai Citoyen, or Citizen's Broom, called for street protests Thursday.
"This is a serious assault on the republic and its institutions," Sy said, calling for protests.
The council was supposed to lead Burkina Faso, Africa's fourth-biggest gold producer, until elections scheduled for Oct. 11. It had vowed to reorganize the 1,200-member elite presidential guard, known by its French acronym RSP, a move the Brussels-based International Crisis Group said in June would meet resistance.
The United Nations, the Economic Community for West African States, and African Union demanded "the immediate and unconditional release of the hostages" and said their detention was a "flagrant violation" of the nation's transitional constitution, according to a statement.
Toronto-based Iamgold Corp. and Roxgold Inc. mine gold in Burkina Faso, which is also Africa's biggest cotton producer, according to the UN Food & Agriculture Organization.