Hungarian Police Clash With Refugees at Border as Routes Shift
By , , and
Croatia opens doors to migrants seeking alternative routes

EU President Tusk to decide Thursday on emergency summit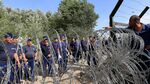 Hungary fired tear gas and water cannons at refugees trying to break through a barrier on the southern border as the country's hard-line approach prompted many others to begin heading toward an alternate route into the European Union via Croatia and Slovenia.
Hungarian police, backed by armored vehicles and helicopters whirling overhead, said they used force to repel the crowd after migrants threw rocks and other projectiles and breached a metal gate that helped seal the border with Serbia. Police said 14 officers were injured in the clashes.

Frustration boiled over among the hundreds of migrants after some were left waiting for more than a day in a field between the two countries in scorching heat. Hungarian authorities set up a registration point on the frontier, where they were rejecting applications en masse, citing a new law
categorizing Serbia as a safe country to which refugees can be returned even if the applicants are fleeing a war zone.
European leaders have been at odds for weeks over how to deal with the region's biggest refugee crisis since World War II, with Hungarian Prime Minister Viktor Orban fortifying his border to keep refugees out and German Chancellor Angela Merkel saying Europe has a moral responsibility to help. Orban has built a razor-wire fence along the border with Serbia and has announced plans to extend the barrier to part of the frontier with Romania.
"Any attempt to build walls and fences is not the Europe we want," EU Trade Commissioner Cecilia Malmstroem told reporters in Brussels. "If you build a wall that is 50 meters, they will find a ladder that is 51 meters."
Croatia on Wednesday threw open its doors to thousands of refugees trying to enter the EU, allowing migrants to cross from Serbia who were stymied in their efforts to get through on the Hungarian frontier. Croatia and Slovenia said they are discussing creating a corridor through their countries to allow refugees now stuck in Serbia to pass through to Austria.

"No one will stop them; no wire, no fences," Croatian Prime Minister Zoran Milanovic told parliament on Wednesday in Zagreb. "We are ready to accept these people and, if you will, direct them to wherever they want to go with all their heart -- and that is Germany, Scandinavia and several other countries."
That came as Austria started temporary checks on Wednesday at its borders, first with Hungary and later with Slovenia as the likelihood emerged during the course of the day that refugees would begin appearing on that frontier. Austrian Prime Minister Werner Faymann and his Slovenian counterpart plan to meet Thursday to discuss the crisis. Germany earlier this week reinstated controls at crossings with Austria. French Prime Minister Manuel Valls said Wednesday that his country stands ready to restore border checks if and where necessary.
The re-imposition of controls departs from an effort over the past 20 years to relax restrictions and open Europe's internal borders under what is known as the Schengen agreement. Germany is a linchpin of the entire system because it's at the center of Europe and shares a border with nine other countries.
Companies and business groups say they're managing to deal with the delays. Deutsche Post AG, which owns the DHL express delivery service and is Europe's biggest mail provider, said it's keeping in close contact with authorities to respond to the rapid changes.
Minimizing Impact
"Our network for road transport is still functioning according to plan," said Raluca Witowski, a Deutsche Post spokeswoman. "Where necessary, we did adjust routes to avoid possible waiting times. We are also working on alternative plans to avoid, or at least minimize, any possible impact in the near future."
European Union President Donald Tusk will announce Thursday whether the bloc will hold an emergency summit of EU leaders requested by Faymann and German Chancellor Angela Merkel. EU interior ministers are set to gather again on Sept. 22 to approve plans to relocate 120,000 refugees entering the bloc through Greece, Hungary and Italy after failing to reach a consensus on the proposal on Monday. 
Croatia, which is an EU member but not part of Schengen, expects the arrival of about 4,000 refugees in the coming days, Interior Minister Ranko Ostojic said on Twitter. The country can handle 1,500 migrants per day with existing facilities, with more reception centers possibly being built if needed, Ostojic said.
Accepting Refugees
Unlike most of its eastern European peers, Croatia has agreed to accept an EU quota and take in 1,600 refugees. The Adriatic country borders EU members Slovenia and Hungary to the north. Croatia said Milanovic and Faymann will meet in Zagreb to discuss the crisis on Thursday.
Hungarian Foreign Minister Peter Szijjarto said Wednesday on public broadcaster M1 that the country was closing two border crossings with Serbia for 30 days. That announcement came a day after a new law took effect making it a crime punishable with imprisonment to cross the border illegally.
"I am running away from the war," said Abdulah, a 25-year-old Syrian economics student, who had traveled through the Balkans to Croatia and declined to give his last name. "I saw on TV there's no use trying to go through Hungary, which is a bad country with bad politics and I don't want to get arrested there."