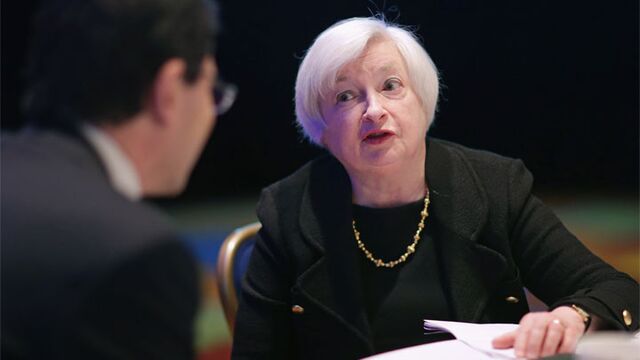 The U.S. is probably about two years away from achieving full employment, no matter what the jobless rate suggests and Federal Reserve officials think.
That's the view of  Andrew Levin, who served as a special adviser to former Fed Chairman Ben S. Bernanke and then-Vice Chair Janet Yellen from 2010 to 2012. "We're not even close to full employment,'' he said in an interview.
Levin, who is now a professor at Dartmouth College in Hanover, New Hampshire, maintains that it would be a big mistake for the Fed to raise interest rates this week and said the central bank should hold policy steady until well into 2016.
 At 5.1 percent, joblessness is in line with the level that most Fed policy makers reckoned in June was the equivalent of full employment. (They'll be releasing updated estimates Thursday after a two-day meeting).  That suggests that wage increases will start to accelerate—and inflation begin to rise—as employers find it increasingly difficult to hire the workers they want without paying them higher salaries. 
Yet Levin said the headline unemployment rate doesn't capture all the slack left in the labor market, an argument that Yellen herself has made at various times since becoming Fed chair in February of last year. In other words, there is labor supply out there that isn't measured by the jobless rate. 
Millions of Americans working part time would take full-time employment if they could get it. And many others out of the labor market might be induced back in if they felt they had a chance at a job.
Putting it all together, Levin calculates the amount of slack at 2.2 percent of the potential labor force, equivalent to around 3.5 million full-time jobs.  While that's down from 7.8 percent at the end of 2009, it's still higher than the 2 percent average since 1994. And it's well above the 1.1 percent rate that prevailed in June 2004, when the Fed last started raising rates.

Levin based his calculation on job market estimates by the Congressional Budget Office and his own comparison of the level of involuntary part-time employment with its longer-term average.  In coming up with its measure of the potential labor force, the CBO includes some Americans who stopped looking for work in recent years but who are expected to resume their search as the economy improves.
Using the CBO's estimate of a roughly 50,000-per-month increase in the potential labor force, it would take about two years to work through all the slack and achieve full employment, Levin said. And that would only occur if payrolls grow at a monthly clip of around 200,000. They rose 173,000 in August.
To buttress his argument that Fed policy makers have got it wrong, the Dartmouth professor points to the subdued behavior of wages. If the job market was as tight as central bank officials think, salaries should be rising at a more rapid rate. They're not, he noted.

"The true unemployment rate—including hidden unemployment and underemployment—stands at around 7.25 percent,'' Levin wrote in his blog on Sept. 9, adding his estimate of slack to the 5.1 percent jobless rate in August. "Initiating monetary tightening at this juncture would be a serious policy error."
Listen to the Benchmark Podcast