One U.S. Banker Is Ready to Raise His Rates, With or Without the Fed
By
Auto-parts maker sees possible slowdown with higher rates

Indebted retirees on fixed incomes may be hurt by an increase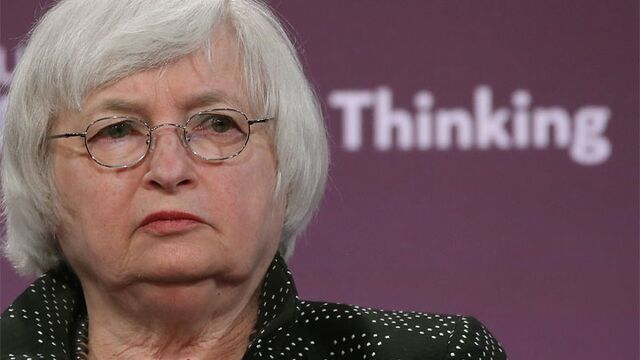 If the Federal Reserve doesn't raise interest rates this week, Bill Loving may have to do it himself.

The president and chief executive officer of Pendleton Community Bank, headquartered in Franklin, West Virginia, says he sees "increasing loan demand" that will heat up if the central bank keeps its record stimulus in place. Then he'll have to boost his deposit rates to pull in more funds to lend.
"Customers feel more confident," Loving says in an interview at O'Neill's restaurant on North Main Street in Moorefield, West Virginia, about 130 miles west of Fed headquarters in Washington. "They are feeling better about where things are."
Loving is a country banker. Pendleton, a subsidiary of Allegheny Bancshares Inc., has five branches scattered among valley towns like Moorefield and Harrisonburg, Virginia. Clients include home-loan borrowers, shopkeepers, grade school students who bring pots of coins into a branch to open their first account, and cattle and poultry farmers trying to grow the herd or put weight on a bird.
Sometimes his loan collateral is on the hoof. Loving's credit analysts are from farm families and know how to trade stock -- the kind with four legs. The bank occasionally buys prize-winning sheep or pigs at fairs to help local 4-H kids, then it sells the animals at auction.
Loving says the economy in his area is picking up, reflected in the "help wanted" sign in front of cabinet-maker American Woodmark Corp.'s plant up the road.
Community banks rely substantially on deposits to fund loans, so a bidding war could erupt among Loving and his peers as demand picks up. The Fed has held its benchmark rate near zero since December 2008, and if it stays low, that will "impact our margins, forcing competition on the loan side and competition on the deposit side," Loving says. So it's time for the central bank to act, he believes, even though Wall Street traders see a less than one-third probability of that happening when Fed officials meet this week.
(For more news about the Fed, see FEDU.)

With Pendleton's basic savings accounts currently yielding 0.05 percent and a one-year certificate of deposit at 0.2 percent, retirees and other depositors are clamoring for higher returns. He worries his clients will start to move into risky deals.
Pendleton's banking business would be very familiar to Carter Glass, the Virginia lawmaker who guided the Federal Reserve Act into law in 1913 partly to help stabilize the tidal flows of money from the farm economy to financial centers in New York and back.
While the Fed and the banking system have evolved, there is one constant: Changes in the rate of interest set by the central bank at 20th Street and Constitution Avenue in Washington still are felt over the mountains and down in valleys like this one.
Low rates are "not good for savers, and we have an older population here that live on their interest," Loving says. "I think it is time" for the Fed to move.
Auto-Parts Maker Worries About Pace of Increases
You can hear the power of the Fed's record-low interest-rate policy on the floor of Cascade Die Casting Group Inc.'s plant in High Point, North Carolina.

Robotic arms ladle molten aluminum into molds, making parts for Jeeps, Nissan Altimas and Ford F-series pickups. As the pieces come down the line, they are polished, brushed and measured in a rhythm of hissing and whirring that sets the pace through two 10-hour shifts, four days a week.
"We have been beneficiaries of those low rates," says Patrick Greene, president of Cascade, which also has plants in Sparta and Grand Rapids, Michigan.
The Fed's zero rate and quantitative easing helped revive the American auto industry in the aftermath of the recession. Now, with rates poised to rise, executives at Cascade worry about a loss of momentum.
A significant increase "will negatively affect car sales," Philip Torchio, Cascade's chief operating officer, says on the shop floor. "I think you will see it in the rhythm of work here."
Sales of new cars and light-duty trucks plunged to a 9 million seasonally adjusted annual rate in February 2009 amid tighter credit and higher unemployment, compared with 16.6 million in December 2006, according to Wards Automotive Group.
Determined to revive credit-sensitive industries after the financial crisis, U.S. central bankers cut the rate on overnight loans among banks and then pushed down longer-term rates with direct purchases of Treasury and housing-agency debt. Average financing costs for a new car were 4.71 percent in the first quarter of this year, down from 6.94 percent in the first quarter of 2008, according to data from Experian Plc. By last month, vehicle sales had recovered to a 17.7 million annual rate, the highest since 2005.

The recession hit Cascade head-on. Revenue fell 40 percent at the low point; the company had to lay off less-skilled staff and told others to take time off without pay.
"We said, 'If you want to go hunting for a month, go,"' Greene said. "We started cutting back hours. We had to reduce wages. It was hard."
Cascade spent less than $100,000 on capital expenditures in 2009, tiny for a business based on heavy machining.
"We literally stopped and said, 'We just don't know where this ends; we need to conserve cash,"' Greene said.
Once auto sales rebounded, Cascade hired back some of the workers it laid off and expanded in Michigan, adding 50 jobs. It now plans to expand at High Point, too, adding as many as 25 to 30 jobs. The company employs about 475 people, split almost evenly between Michigan and North Carolina.
A half-percentage point boost in the Fed's benchmark could reduce U.S. auto sales by as much as 150,000 units a year, estimates John Humphrey, general manager of J.D. Power & Associates' global automotive operations in Westlake Village, California.
A small increase probably won't affect business too much, Torchio says. "But there will definitely be a point where the momentum will change if rates continue to go up."
Retiree Paladino Says Yellen Should Wait
Ralph Paladino is a retired police officer in Utica, New York. He and his wife of 44 years watch the markets and business news every day -- and hope Fed Chair Janet Yellen doesn't raise interest rates.

"Walk in my shoes," says the 68-year-old. "We don't have filet mignon every night."
He has credit-card debt of $4,700 with a 9 percent interest rate and a home-equity loan at about 6 percent. His income is Social Security and a state pension.
Paladino didn't want to be in debt in retirement. But life has a way of changing the best of plans. His daughter, Deanna, died of cancer at age 41 last year, and his 17-year-old granddaughter moved to his home. He spent some of his money on renovations.
"We wanted to have a real nice room for her," he says.
He has another daughter, also a police officer, who lives with them and helps out with family bills.
"I don't know what we would do without her," he says.
When asked if Yellen should consider raising interest rates, Paladino says "absolutely not" and "no, no, no."
A move of even a quarter percentage point may not seem like much, but it will increase borrowing costs for millions of Americans carrying debt that adjusts with changes in rates. That's because a boost in the Fed's benchmark triggers a rise in the prime lending rate, which banks often use as the base for credit cards and home-equity loans.
Higher debt costs can be a zero-sum calculation for the Paladinos and others because inflation is low, just 0.3 percent for the year ending July. The former policeman says cost-of-living adjustments on his retirement income have been barely enough "to split a banana split."
Wages for job holders haven't been galloping ahead either, increasing an average 2 percent a year since the economic expansion began in June 2009.
"Keeping that prime rate low really matters to us," Paladino says.
At around 2 p.m. Sept. 17, when Fed officials release their policy statement, Paladino will be watching websites and television for the news. Right now, he has confidence the Fed's first female chair will make the right decision.
"Yellen has been doing a terrific job," he says. "I think she does see the big picture."