Meet the Maker: An Artist of Wallpaper
George Venson's handcrafted wallpaper turns your home into a work of art
By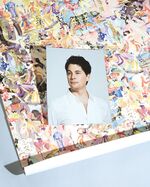 As told to Maura Walters
"I've always loved painting, and when I found myself living in a cramped studio in New York, I began obsessing about how I could make something beautiful in the minimal space. I liked the idea of making wallpaper, because it allowed me to put my mark on a big surface area. That year, I covered every wall of my apartment—including the ceiling—in painted lips, peacocks, and birds of paradise. I launched my business, Voutsa, in 2013 with 12 patterns in six different color schemes. Within a year, I'd sold 100 rolls, and people began requesting custom orders. I painted a wall of Chinese motifs for a foreign journalist and a bird mural for a woman in New York.
"My latest collection features figures from the Ballets Russes, Grecian urns, and Iranian stained glass. If you buy my bird-of-paradise print, I want you to feel like you're in the jungle.
"When I was making the koi paper, I kept asking myself, 'Will this make the customer feel like they're living in a fish tank?' If the answer was no, I'd start over."
Collection from $200 for five yards; custom work from $5,000 per 8-foot-long surface; voutsa.com




Before it's here, it's on the Bloomberg Terminal.
LEARN MORE