business
The Battle Over Prized Land Under Silicon Valley's Trailer Parks
Mobile homes will not be easily moved out of California's hottest real-estate markets.
By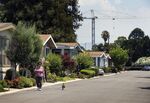 The free market wouldn't plop down a trailer park just a few miles from downtown San Jose. At least not today, in a sharply spiking housing market that has made the metropolitan area one of the most expensive in the U.S. But that's where you'll find Winchester Ranch and its 111 mobile-home lots, just down the street from an upscale shopping mall, a newly created development zone, and a major highway interchange.
"The best use for that land is probably apartments," said Gary Hansen, a senior vice president at Cushman Wakefield, the commercial real estate firm with offices just across Winchester Boulevard from the mobile homes. You don't need to be a broker to reach Hansen's conclusion: "It's a premier location."
That made Winchester Ranch look like a potential bonanza for home builder PulteGroup when it agreed to purchase the property from its longtime owner. The idea was to develop the site with a mix of market-rate condominiums and affordable apartments alongside a new hotel. To compensate residents that the project would displace, the Atlanta-based company plans to offer buyout packages "somewhere from $140,000 to more than $200,000," said Jacque Petroulakis, a spokeswoman for Pulte. The company declined to comment on the price of the deal, which hasn't yet closed.
Those payouts, however, didn't prove sweet enough to win over residents and housing activists. The San Jose City Council is expected Tuesday to vote on a six-month moratorium that would prevent the closure of Winchester Ranch and 58 other mobile parks within city limits. If the measure passes, lawmakers would use the time to work out the delicate balance between the desires to spur growth and to avoid booting seniors out of their homes.
"Over the years, the most traumatic and difficult deals you can do have been conversions of mobile-home parks," said Hansen, a former city council member in nearby Santa Clara. "If you want to make a lot of enemies quick, talk about converting mobile parks in your community."
California has about 4,500 mobile-home parks that can hold more than 393,000 residences, creating a particularly tricky problem in parts of the state with fast-climbing housing prices. Those living in mobile homes are typically older and poorer than other local residents. Lots at Winchester Ranch, for instance, are available only to residents 55 and older. Most mobile-home residents find themselves in the complicated situation of owning their dwellings but not the land underneath. Developers envision much better ways to make money than collecting modest monthly payments from mobile-home tenants.
The state tried to get around this dynamic in the 1980s with the passage of rules discouraging mobile-home park owners from kicking out residents. But rising land values in recent years have changed the economics of the business, giving park owners and developers greater incentive to pay the costs of removing residents while taking on affordable-housing advocates who oppose park closures.
Buyouts to residents of Winchester Ranch under the current offer could add at least $15 million to development costs. Pulte plans to apportion a piece of the 16-acre plot for a hotel to be built by an outside developer, helping to offset the costs of the buyouts. The builder is counting on a prime location in a hot housing market whose median listing price for a single-family home in August reached $878,000, the country's second-highest level, according to the National Association of Realtors.
The same market dynamics that allow Pulte to promise rich buyouts may also prevent Winchester Ranch residents from finding new homes. A household in San Jose needs to earn $109,000 a year to afford the average market-rate apartment, and most income-restricted housing developments have long waiting lists, according to a recent staff memo from the city council. There are more than 19,000 mobile-home spaces in Santa Clara County, which contains San Jose, but only 78 active listings. The memo put the average price for those listings at $197,000.    
"They're not building any new mobile parks," said Terri Pohrman, vice president for the Golden State Manufactured-Home Owners League. "If you drive people out, where are they going to go?"
Part of the problem is that mobile homes aren't truly mobile—about 70 percent of mobile homes have never been moved from their first location, according to U.S. Census figures—and for the most part don't even qualify for home loans. The term "mobile home" persists, in part, because it's less evocative of exurban poverty than the once-popular phrase "trailer park." It's also less vague than "manufactured homes," the industry's preferred nomenclature. Across the U.S. there are about 2 million such homes situated in mobile parks with at least 21 lots, according to the Census Bureau's American Housing Survey, and about 8.6 million mobile homes in total.
The typical mobile-home resident is older, whiter, and poorer than the U.S. population, according to the census. Forty-five percent were eligible for food stamps in 2013, and 28 percent  of mobile-home households are led by someone who lacks a high school diploma. 
Since mobile-home residents don't own land, they generally don't qualify for home loans, foreclosure protection, or other benefits of homeownership. "Instead of like a traditional site-built home where the value is going to increase over time, it winds up being like a car that depreciates every day," said Mike Bullard, a marketing manager for ROC USA, a New Hampshire-based nonprofit lender that helps resident groups pool their funds to buy mobile parks.
Attempts to block mobile-home park conversions have spread across California areas with skyrocketing home prices. Huntington Beach passed a temporary ban on conversions in 2013 so the city could decide what to do with displaced senior citizens. Subsequent attempts to redevelop mobile parks have been challenged in courts up and down the coast. The best-known case involves an effort by the municipal government of Palo Alto to raise $38 million to buy a 117-lot mobile park that has been slated for redevelopment—an outcome with the potential to disappoint those who think the land should be put to higher use, as well as those who believe there are more efficient ways to support low-income residents.  
"Basically, they have to come up with the money to pay for the land at luxury prices," William Constantine, a housing lawyer who has represented mobile-home residents seeking to block conversions, said of Palo Alto's predicament. "It's a waste of public resources needed to preserve other housing."
One alternative would be for local governments to apply a new state law requiring a municipal plan to preserve existing affordable housing. Local governments could also use eminent domain to help residents acquire mobile parks at prices that reflect the value of a mobile-home business, not what the land is worth to developers. Constantine has drafted legislation for Santa Cruz County, Sonoma County, and the city of Watsonville that would let the government pursue that path as a last resort.
"It's reasonable, if you're a park owner, that you want to make as much money as you can," said Constantine. "But the state has a right to limit land use to provide low-income housing."
(Correction: PulteGroup's plans call for market-rate condominiums, in addition to affordable rental apartments and a hotel, on the site of the Winchester Ranch mobile-home park in San Jose. An earlier version of this story described plans for market-rate apartments.)
Before it's here, it's on the Bloomberg Terminal.
LEARN MORE