Sony Cuts the Price of PlayStation 4 in Japan
Pavel Alpeyev and Grace Huang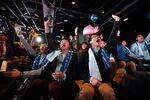 Sony Corp. is cutting the price of its PlayStation 4 in Japan by about 13 percent, increasing the prospect of a global price war with Xbox-maker Microsoft Corp.
The console will be priced as low as 34,980 yen ($293) starting Oct. 1 from the current 39,980 yen, Sony said Tuesday. The company also said its Project Morpheus virtual-reality headset will be renamed PlayStation VR, highlighting its link with the console.
President Kazuo Hirai considers the PlayStation a centerpiece of his plan for reviving profit at the electronics maker. Sony has retaken the sales lead in videogame machines from Microsoft Corp.'s Xbox One by offering more titles and courting independent game developers.
The move could be the start of a price war in the U.S., where the PlayStation has done well, according to Jon Erensen, research director at Gartner. Microsoft has lowered the price of Xbox domestically and bundled it with software to make it more attractive to consumers.
"Microsoft has a strong game line-up for the 2015 holiday season," Erensen said in an e-mail. "Sony being more aggressive on pricing or bundling in line with what they announced for Japan would make sense."
The company's shares gained about 1.2 percent to 3096 yen as of the close in Tokyo on Wednesday. The stock has surged 25 percent this year, compared with a 4.6 percent advance for the Topix index.
Local Sales
Japan sales of PlayStation 4 have reached about 1.5 million units, less than 10 percent of the global total, Junya Ayada, an analyst at Daiwa Securities Group Inc., estimates.
Sony previously said it would sell a Darth Vader-themed version of the console to capitalize on the release of the latest "Star Wars" film in December. The announcements come as Apple Inc. prepares to sell a more gamer-friendly Apple TV next month.
"We decided to cut the price to keep up sales momentum," said Makiko Noda, a spokeswoman for Sony Computer Entertainment. "PlayStation hardware is selling well, and there are game titles fans in Japan are looking forward to coming out soon."
In July, Sony raised its full-year sales target for PS4 consoles to 16.5 million units from the earlier 16 million. Profit in the business more than quadrupled in the fiscal first quarter to 19.5 billion yen as sales gained 12 percent to 288.6 billion yen.
The PS4 has outsold the Xbox One since each model was released in late 2013. Sony will have sold 34 million machines by the end of this year, compared with 20 million Xbox Ones, according to researcher IHS Inc.
"The impression is that domestic sales were relatively weak compared with overseas," said Ayada of Daiwa. "PlayStation is in the lead abroad, so no need to cut prices there unless Xbox makes the first move."