Obama Wants CEOs to Pressure U.S. Congress to Avoid Shutdown
By
President to meet Wednesday with Business Roundtable leaders

Government will shut down Oct. 1 without spending plan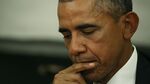 With 17 days before a potential government shutdown, the White House wants America's corporations to pressure Congress to pass a spending plan for the next fiscal year.
President Barack Obama will meet with top executives Wednesday at the Business Roundtable, an influential trade group for large corporations, to discuss his budget standoff with congressional Republicans. White House press secretary Josh Earnest said the president will argue that a shutdown would impose "self-inflicted wounds" to the economy.
"We cannot afford to reverse course in the progress that we've seen by playing games with the budget," Earnest told reporters on Tuesday, after reviewing improvements in home prices and employment since Obama took office in 2009.
The CEOs who are members of the Business Roundtable represent U.S. companies with $7.2 trillion in annual revenues. The group is led by AT&T Inc. Chairman Randall Stephenson.
Abortion, Sequestration
Two unrelated disputes are holding up spending bills that would keep the government operating after Sept. 30, the end of the 2015 fiscal year.
Republicans want to eliminate federal funding for Planned Parenthood, the women's health provider whose services include abortion, because of hidden-camera videos released by an anti-abortion group that show some of the organization's executives discussing compensation for providing tissue from aborted fetuses to researchers. Obama and congressional Democrats stand by the group and say they won't agree to spending bills that defund it.
Obama wants Congress to lift spending caps known as sequestration that restrict spending on domestic health, research and education programs. He has threatened to veto every spending bill Republicans have produced so far because they would provide less money for the government than he requested.
Edging into the campaign to replace him, the president told Iowa voters on Monday that they should evaluate candidates based on their actions during the budget debate. He said at a high school in Des Moines that continuing sequestration's spending limits would hurt education. Iowa holds the first presidential primary caucuses on Feb. 1.
"That's going to force then either layoffs, or kids not getting the kinds of support that they need," Obama said. "It will have an effect on the education of students."
Nine Days
Democratic lawmakers and the White House have said a long-term budget must repeal the law that set the sequestration budget caps and raise defense and domestic spending in equal measure.
The Senate Democratic leader, Nevada's Harry Reid, on Tuesday accused congressional Republicans of wasting time that could be spent working out the budget dispute. He noted that the Senate is only scheduled to be in session for nine days before the Sept. 30 deadline.
"We have a looming government shutdown. It's right before our eyes. The Republican leader has already wasted far too much time dithering and doing nothing on that," Reid said, referring to Mitch McConnell of Kentucky, the Senate majority leader. "The Republican leader doesn't seem to be in any hurry to avoid a shutdown, and that's really unfortunate."
McConnell has said the Senate will vote again this week on Obama's deal to curb Iran's nuclear program, in an attempt to pressure Democrats to change their positions and oppose it. House Republican leaders, meanwhile, are planning votes on new restrictions on abortion in an effort to placate Planned Parenthood's opponents.
It's unlikely that lawmakers will pass a long-term spending bill before the end of the month. Attention has instead turned to short-term, stopgap legislation that would give lawmakers more time to negotiate. McConnell told CNN in a Sept. 11 interview that he, Obama and the House speaker, Republican John Boehner of Ohio, would probably have to resolve the spending dispute later in the year.
Earnest has suggested Obama would accept a short-term bill that maintains sequestration-level spending, provided a long-term bill does not.
Republican leaders have expressed some frustration with conservatives who insist on stripping funding for Planned Parenthood as part of the annual appropriations process. McConnell said in an interview with Politico last week that the effort was "an exercise in futility."