Malone Still Seeking Common Ground for Liberty-Vodafone M&A
By and
No proposed structure to take to shareholders so far

Doesn't want to repeat `worst decision of my life:' Malone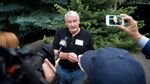 Liberty Global Plc is still searching for common ground over an exchange or combination of assets with Vodafone Group Plc, according to John Malone, the cable company's billionaire chairman. The stalemate lingers months after the disclosure of talks between the pay-TV and mobile-phone giants.
"Conceptually there could be some real value created but realistically we haven't been able to figure out a way to do that that's mutually successful," the 74-year-old said in a phone interview late last week. "That doesn't mean that we won't find a solution, nor does it imply that we will." Comparing the discussions between Liberty Global and Vodafone to a "tennis match" of ideas, Malone said there's been no proposed structure for a deal that either side could pitch to shareholders.
Vodafone, the world's second-largest wireless carrier by customers, said in June it was in talks to swap assets with Liberty Global. People familiar with the matter said at the time the companies were discussing a range of potential transactions including an exchange of assets, combining their western European businesses, or an outright merger. Vodafone said it wasn't negotiating a full merger.
"Obviously there's a price at which Liberty Global could be bought," Malone said. "I don't believe that that's likely for the other side to get there -- an outright purchase of the whole company. Other than that, it's a question of could you figure out some way to live together."
Vodafone shares fell as much as 2.9 percent, trading at 217.30 pence as of 2:47 p.m. in London, a three-week low. Liberty Global dropped 1.3 percent to $46.24 in New York.

Liberty Global and Vodafone together have more than $80 billion in annual revenue and $130 billion in combined market capitalization. With assets from the U.K. to India and Africa, Vodafone is looking to reduce its reliance on a business that has suffered from a fierce price war in Europe. Liberty Global's interest in a potential deal reflects a deeper shift in strategy at a media company that until recently has shied away from owning wireless networks.
Deal Stalemate
Though any deal would reshape Europe's telecommunications and cable industry and prompt rivals to rethink their strategies, it would also attract antitrust scrutiny. Earlier this month, the executive who leads Deutsche Telekom AG's German unit said the company would oppose a merger of Liberty Global and Vodafone in its home country. Besides Germany, Malone has said the U.K. and the Netherlands are key European markets for expansion.
"It's a stalemate now, and the issues over the key markets are unlikely to be resolved," said Neil Campling, an analyst at Aviate Global in London. Vodafone would have the most to lose if a deal can't be reached because the company is "a disparate network of mobile-only offerings in multiple markets offering no competitive advantage, no scale opportunities, few synergies, no converged services and certainly no quad-play."
Ben Padovan, a spokesman for Vodafone in London, declined to comment on Malone's remarks. Neither company has set a deadline for an agreement.
Vodafone Chief Executive Officer Vittorio Colao has laid out his options for expansion -- buy or build. Without a deal, Colao may have to stick with the latter by adding TV and Internet services to his mobile networks in Europe. In the U.K., mergers among its rivals have left the company with few options outside of a deal with Liberty Global's Virgin Media unit to gain market share. The combination of O2 and Three, local units of Telefonica SA and CK Hutchison Holdings Ltd., will create the country's biggest mobile operator while BT Group Plc's acquisition of EE will make it the largest "quadruple-play" service provider.
Vodafone is also reviewing its Indian business and may sell shares of the unit in an initial public offering. Investment bank Rothschild is compiling a report about the benefits of a possible IPO, a person familiar with the matter said in May.
'Tennis Match'
Malone, with a net worth of $8.5 billion according to the Bloomberg Billionaires Index, said he doesn't want to repeat with Vodafone what he called "the worst decision of my life'' -- when he sold his former U.S. cable company Tele-Communications Inc. to AT&T Inc. in 1999. "I ended up as a trapped, illiquid largest personal shareholder of AT&T in a period when things didn't go well.''
Malone also reiterated the "philosophical'' differences between the two companies' business models, particularly that Vodafone pays dividends while Liberty Global does not. For now, talks between the sides are not formal discussions, but rather a "tennis match" where thoughts and ideas are lobbed back and forth, he said.
"In the back of our minds we keep thinking about it and keep thinking about structures that might work," Malone said. It's a "real challenge" for investment bankers to see "if they can be creative, if they can come up with something that would work for everyone and get it by multiple objectives."