politics
Jerry Brown to Republican Visitors: Welcome, 'Merchants of Destruction!'
California's governor rolls out the un-welcome mat for Republican presidential candidates arriving in his state for Wednesday night's debate.
By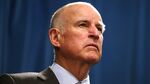 As he struggles to bring under control devastating wildfires that he blames at least partly on global warming, California Governor Jerry Brown has an un-welcome message for the Republican presidential candidates gathering in his state for a debate Wednesday.
"I would challenge these Republican presidential candidates to speak to what is certainly one of the fundamental issues of our time," Brown said in an interview. "They fancy themselves defenders of life but they actually are willing merchants of destruction. I would like to see them be honest about climate change."
Brown, a 77-year-old Democrat currently grappling with a series of wildfires, one of which has destroyed more than 400 homes and burned an area more than twice the size of San Francisco, said none of the 15 Republicans scheduled to appear on stage 400 miles (700 kilometers) south, at the Ronald Reagan Presidential Foundation and Library, has a credible plan to deal with climate change. The governor, who himself sought the presidency in 1992, backed a bill that the state Legislature passed Sept. 11 to mandate more renewable power sources and increase energy efficiency of buildings. 
Though 37 percent of self-identified conservative Republicans, and 64 percent of moderate and liberal Republicans, believe that global warming will happen in their lifetimes, according to aggregate Gallup polling data from 2010 to 2015, the issue does not appear to be a top concern among voters. In a March 2014 Gallup poll  climate change ranked as the 14th most important issue out of 15 surveyed, topping only race relations among issues about which survey respondents said they cared a "great deal." The Republican presidential candidates are equally non-alarmist.
Of the 11 who will appear on stage for CNN's prime-time debate among the top-tier candidates, only a few acknowledge the possibility that human activities are contributing to global warming and even they are reluctant to support regulations on carbon usage. 
Brown said the candidates' positions reflect an ideologically rigid Republican Party, noting that Richard Nixon signed the Clean Air Act and that George H.W. Bush reauthorized it. "There ought to be some dissent on this topic," the California governor said. "Otherwise they're going to be increasingly irrelevant to tens of millions of people."
Democratic and Republican presidential candidates have backed away from policies such as subsidizing solar and wind power because they are unpopular with the public, said Tim Phillips, president of Americans for Prosperity, the free-market group backed by the billionaire Koch brothers. Regardless of the rhetoric around climate change, candidates know better than to advocate policies that drive up energy prices and stifle economic growth in the name of minimizing global warming, Phillips said in a telephone interview.
"When it comes to policies emanating from the global-warming movement, our side is winning with the American public," he said. "The candidates on both sides know that."
Here's what the candidates leading the Republican polls have to say.
Donald Trump
The billionaire real-estate developer and Republican front-runner told CNN's Jake Tapper, the moderator of Wednesday's debate, that he's not convinced that humans are warming the planet. "I'm a huge believer in clean air," Trump said June 28 on CNN's State of the Union. "I'm not a huge believer in the global-warming phenomenon." Even if human activities are contributing to global warming, he said the U.S. shouldn't bear the burden of changing its practices while China is allowed to continue polluting.
Ben Carson
The retired neurosurgeon, during a campaign stop in San Francisco on Sept. 8, said believers in climate change assert it without being able to produce evidence. "There is no overwhelming science that the things that are going on are man-caused and not naturally caused," Carson said, according to a report in the San Francisco Chronicle. In response, Brown mailed Carson a flash drive containing a United Nations report concluding that "human influence on the climate system is clear and growing." Last year, in an interview with Bloomberg, Carson called the question of global warming "irrelevant" and said the Environmental Protection Agency "should be told to work in conjunction with business, industry and universities to find the most eco-friendly ways of developing our energy resources."
Jeb Bush
The former Florida governor has said he believes in climate change, but said there's no scientific consensus on man's role. "For the people to say the science is decided on this is really arrogant, to be honest with you," Bush said in New Hampshire on May 20, according to CNN. "It's this intellectual arrogance that now you can't have a conversation about it, even. The climate is changing. We need to adapt to that reality."
Ted Cruz
The junior U.S. senator from Texas dismissed global warming as a "pseudoscientific theory" in a June 29 interview with Yahoo global news anchor Katie Couric and asserted that politicians are invoking it to increase their power over people's lives.
Marco Rubio
Florida's U.S. senator has consistently cast doubt on the scientific consensus of man-made climate change. In 2009, while running for Senate, he responded to a question about it by saying, according to the Miami Herald: "I'm not a scientist. I'm not qualified to make that decision. There's a significant scientific dispute about that." In April 2015, days after launching his presidential campaign, Rubio said on CBS's Face The Nation, "Humans are not responsible for climate change in the way some of these people out there are trying to make us believe," and argued that while it's impossible to tell what the effect of limiting carbon would be on the environment, "I can tell you with certainty, it would have a devastating impact on our economy." During a campaign stop in Londonderry in late August, Rubio elaborated: "The climate's been changing forever and it's going to continue to change," he said. "But here's the bottom line. I'm not supporting any laws that destroy our economy, make life more expensive for our people and don't change the climate."
Carly Fiorina
Hewlett Packard's former chief executive has said that regardless of whether global warming is human-caused, a single country or state shouldn't be forced to act on its own.
Scott Walker
Wisconsin's governor hasn't articulated a position on the issue, according to published reports.
Chris Christie
The New Jersey governor said he believes climate change is real and at least partly caused by humans, but he said all countries need to do their part to combat it.
John Kasich
The Ohio governor has said that while he believes there is climate change, he's not convinced about how much human activity is responsible. He advocates what he calls a balanced approach that acknowledges a need to care for the environment while not causing economic disruptions. "I think humans play a part in this, and I think that we have a responsibility to do some things to make sure that we address this," Kasich said a town hall meeting in New Hampshire on Sept. 2. "But not to the point where we take such drastic action that I put a bunch of people out of work."
Mike Huckabee
The former Arkansas governor has said climate science is "not settled."
Rand Paul
Unlike Cruz and Rubio, the Kentucky senator voted to endorse the idea that climate change is real and at least partly human-caused as part of an amendment to a bill in January regarding the Keystone XL oil pipeline. But Paul has said he's skeptical of government action to address climate change.
(Contributing: John McCormick, Sahil Kapur, Mark Niquette)
Before it's here, it's on the Bloomberg Terminal.
LEARN MORE