pursuits
Europe Car Sales Rise as Economy Helps Renault SUV Demand
By
New SUVs also attract more customers at Mercedes-Benz, Citroen

Eight-month sales increase 8.6 percent to 9.38 million cars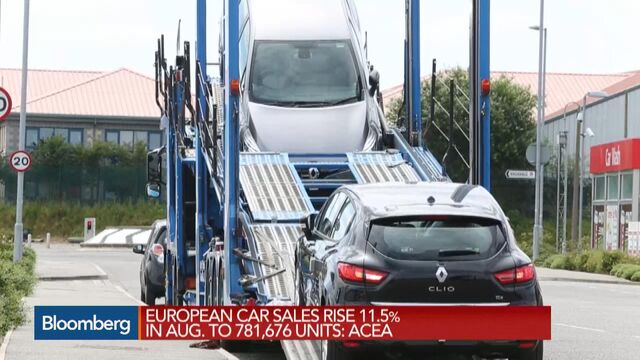 European car sales rose 12 percent in August, the second-fastest gain this year, as rising economic confidence encouraged purchases of new sport utility vehicles from French manufacturers Renault and Citroen and luxury producers BMW and Mercedes-Benz.
Registrations jumped to 781,676 vehicles last month from 701,251 a year earlier, the Brussels-based European Automobile Manufacturers' Association, or ACEA, said in a statement Tuesday. Eight-month sales increased 8.6 percent to 9.38 million autos. That included growth of 9.5 percent in July.
Europe is a rare bright spot for automakers as slumps in once-hot markets like China, Russia and Brazil are set to sap worldwide demand this year. Renault executives at the Frankfurt International Motor Show raised their forecast Tuesday for Europe's auto market for 2015 while predicting that global demand may not grow. In an interview with Bloomberg Television, Volkswagen AG Chief Executive Officer Martin Winterkorn also said global car-industry sales will be unchanged at 75 million vehicles this year, though emerging markets will bounce back eventually.
"The world is volatile, but fortunately we're not seeing it all move in the
same direction at the same time," as gains in the U.S. and Europe make up for drops in countries such as Brazil and Russia, Ian Robertson, BMW AG's sales chief, said in an interview at the show.
Confidence Rises
A European Commission index of executive and consumer confidence in the countries using the euro rose in August to a four-year high following a decline in unemployment a month earlier. Munich-based BMW's namesake brand, the world's biggest maker of luxury cars, is attracting customers with the coupe-like X4 and X6 SUVs, and presenting the latest version of the X1, its smallest offering in the segment, at the Frankfurt show this week. (For more news from the industry event, see SHOW.)
BMW's companywide European deliveries rose 21 percent, with the main nameplate posting a 17 percent increase and demand at the Mini small-car unit, which has renewed its line-up, surging 37 percent. Daimler AG's Mercedes, which is poised to overtake Volkswagen's Audi division as the world's second-biggest luxury-car brand as its GLA compact SUV attracts customers, sold 19 percent more autos.
European sales of Renault SA's main brand increased 20 percent in August, helped by the introduction of the Kadjar compact SUV and continuing momentum from its Captur model. Helene Mazier, a spokeswoman, said Renault is forecasting the region's auto market will expand as much as 8 percent, versus an earlier outlook of 7 percent. Worldwide demand may grow at less than the 1 percent pace forecast previously, and may not increase at all.
Paris-based competitor PSA Peugeot Citroen posted a group sales gain of 9.2 percent in the region, as the C4 Cactus crossover helped propel a 14 percent jump at the Citroen marque.
Porsche's Push
Volkswagen, Europe's largest automaker, reported a 5.7 percent sales gain in the region last month, with jumps of 34 percent at the Porsche brand, 12 percent at the mass-market Skoda division and 8.2 percent at Audi. U.S. manufacturer Ford Motor Co. sold 8.3 percent more cars in Europe, while competitor General Motors Co.'s Opel and Vauxhall brands posted a 15 percent jump, helped by the Mokka SUV.
The ACEA reports figures from the European Union countries, excluding Malta, as well as Switzerland, Norway and Iceland. The five biggest markets all posted sales growth in August, with the biggest increase a 23 percent jump in Spain.
— With assistance by Chris Reiter, and Mathieu Rosemain
(Updates with Renault's market-forecast increase in seventh paragraph.)
Before it's here, it's on the Bloomberg Terminal.
LEARN MORE